Meryl & Danica's Ice Bucket Challenge Is Adorable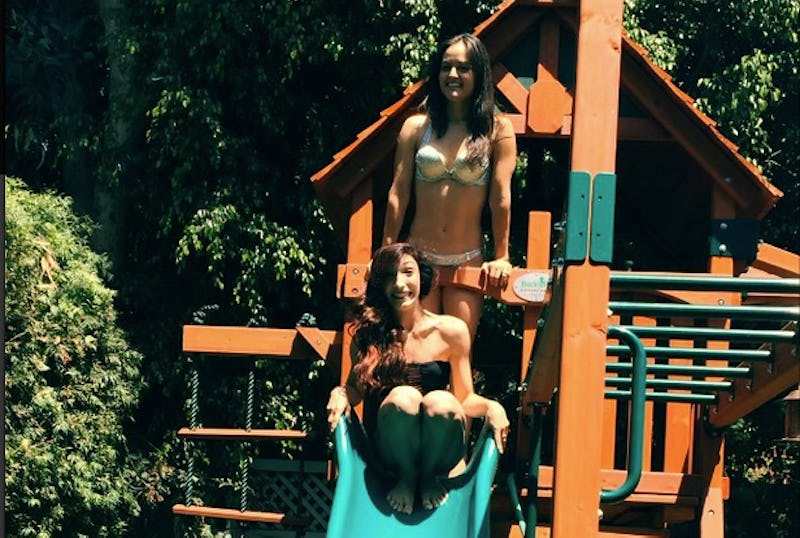 We're starting to get creative now. Celebrities are jumping on the ALS Ice Bucket Challenge left and right lately and their videos are getting progressively more adorable. I challenge you to find a single person that didn't fall in love all over again after watching Robert Pattinson's recent ice bucket vide o that also included flying red cups. So unsurprisingly, DWTS contestants Danica McKellar and Meryl Davis' ALS Ice Bucket Challenge video is the cutest thing we've ever seen and continued the trend of adding a little something extra — in this case, a kiddie pool.
First, how cute are these two and how happy are you, DWTS fans, that Meryl and Danica still hang out? I know, you're ecstatic. You'll also be ecstatic to know that Meryl and Maks are still BFFs and potential soul mates even after all of those Maks and J.Lo rumors. (Yay!) To complete their ALS Challenge, Meryl and Danica slid down a jungle gym slide into a kiddie pool and then dumped huge buckets of ice water on each other. But not before they threw a little shade at Danica's DWTS partner, Val Chmerkovskiy for his lack-luster ALS Challenge on Monday.
After thanking Amy Purdy and Candice Cameron Bure for nominating them, Meryl and Danica nominated Val and Maks (soulmates, sigh) and said, "Let's show them how it's done." And that they did — so is Maks in love with Meryl yet or what?
Watch Meryl and Danica's ALS Challenge here:
Image: MerylEDavis/Instagram