Meet the Woman Who Sews a Dress a Day for Charity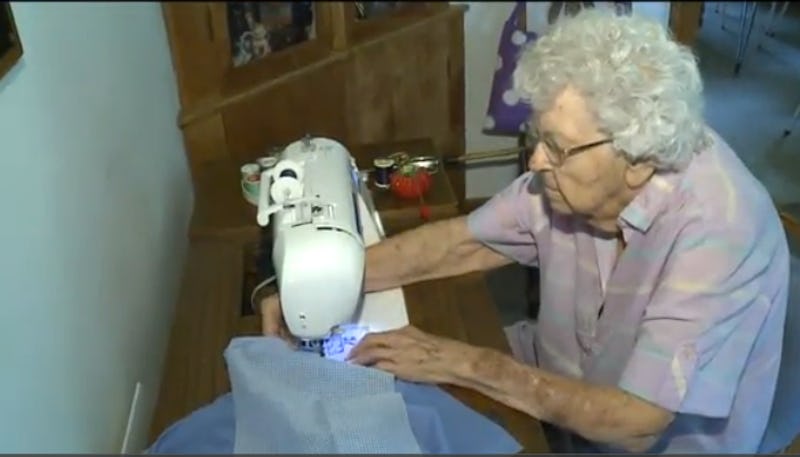 Ready to feel really guilty for sitting around watching Netflix all weekend? An Iowan woman named Lillian Weber sews a dress a day for charity. Oh, and she's 99 years old. This sure makes all those Ice Bucket Challenge videos look like donation child's play, now doesn't it?
Weber, who was recently profiled by WQAD8 on their "Pay It Forward" series, sews one dress each day for a charity organization called "Little Dresses for Africa," which distributes dresses to little girls in impoverished African villages. According to the TV spot, Weber has made over 850 dresses over the past two years. She plans to make at least another 150 by May 6th, 2015, bringing the total up to 1,000 dresses by her 100th birthday. Dayum.
Linda Parcell, Lillian's daughter, told WQAD8, "She personalizes them all. It's not like good enough that she makes the dresses, she has to put something on the front to make it look special, to give it her touch." So not only does Weber make these dresses from patterns, she also adds personal elements that differentiate them from one another. She's clearly one fabulous lady who isn't letting old age hold her back.
While I respect that health problems often prevent older folks from living life to the fullest, I love seeing this nearly-century-old woman still going after her passion with vitality. It's true what they say about engagement keeping you alive once you get up there in years. At 99, Lillian Weber still has plenty to give.
So, what happens when she reaches the 1,000th dress? "I won't quit. I'll go at it again because there's no reason to not do nothing." You go, Lillian Weber!
Images: WQAD