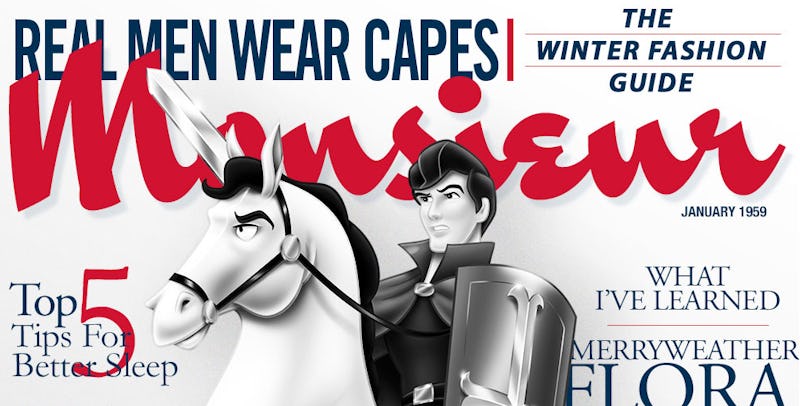 When princes aren't helping save damsels in distress, they're posing for magazine covers, apparently. Disney is getting in on the relentless repurposing of its characters with Disney prince magazine covers, published on its blog on Tuesday. Everyone from Prince Charming to Aladdin has found himself gracing the pages of pretty familiar looking publications. Monsieur? Hmm, looks like the prince version of Esquire. Forget about Chris Pratt, I want to hear about Beast's workout routine.
This isn't Disney's first time playing with magazines. Just last year, the princesses had their turn in the spotlight as cover girls. Merida gave us the lowdown on why archery is so trendy nowadays and Jasmine suggested tips on blending in with the locals. But now it's time to see what the princes have for us Disney fans.
The magazines' cover lines are full of stories I'd want to read while killing time on a flight or sitting on the toilet. "How Naveen's Darkest Moment Brought Him The Love Of His Life" is so People magazine (turned into Royals for this project, maybe Lorde can do the soundtrack for the Princess and the Frog sequel). "Are All Stepmothers Created Evil?" is a cackle-worthy idea coming from the pages of Kingdom & Forest. The answer is probably yes. And sure, Beast is on the cover of Vanity for this issue, but we all know Gaston is going to end up there eventually. But the story I really want to hear is how Prince Eric got into sailing. Did he fall in love with the activity while going to school on the east coast, wearing Sperry boat shoes and going out on the water with his fraternity brothers? And let's hear some gossip about the dwarves, Mr. Snow White. These are back stories I must know.
Here's one of the covers, featuring Prince Phillip from Sleeping Beauty:
And a couple others:
There are several more on Disney's blog, so head on over there to check them out.
You know what Disney needs to do next? Put Disney sidekicks on their next round of magazine covers. A lover-finding column called "Matchmaking With Mushu" would be everything I ever wanted from the pipsqueak dragon. In the meantime, you can check out the rest of the covers here.
Images: Oh My Disney/Twitter