Season 6 'Glee' Rumors Vs. Reality — It Can't All Be That Nuts, Right?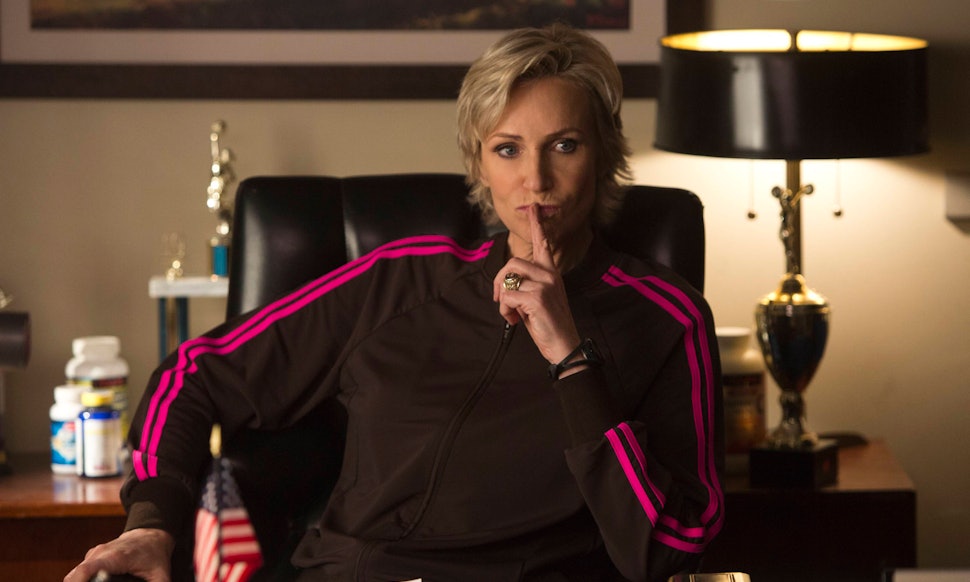 When Season 5 of ended, Glee underwent quite a few changes to the original construct of the show: it was now solely focused in New York, the New Directions had disbanded and been phased out mid-season, and Rachel had just quit her starring role on Broadway to take a TV development deal in Los Angeles. But that was four months ago, and in true Lima Loser fashion, everything has changed dramatically heading into Glee Season 6.
When production on Season 6 began, Fox rolled out a whole heap of spoilers to entice the curious and correct the naysayers. There have been rumors flying around ever since Season 5 ended, many of them having to do with Glee's location changes and onset feuds (Naya, Lea, I'm looking at you), but now that we have some facts, I'm prepared to set the record straight.
Image: Adam Rose/Fox
Rumor: Rachel is going to be a TV star in L.A.
Reality: Pitifully false; after leaving her lifelong dream of becoming a Broadway star, for her new dream of becoming a TV star, it seems everything didn't go just the way Rachel expected. Big breaks don't come in pairs. In the statement Fox released about Season 6, they stated that Rachel will return to Lima after her "humiliating failure as a TV actress," and with a six-month time jump will reinstate the Glee club and try to return it to its former glory. Joining her back in Ohio will be Kurt, Blaine, Artie, Sam, Mercedes, Sue, Beiste, and Will as series regulars.
Rumor: 'Glee' is sticking to the original cast, no more new kids
Reality: False; while the old new kids are out (sorry, Ryder), it seems that the Rachel returning to McKinley storyline will call for some new new kids. TVLine reports that at least five new major Glee characters are being cast to repopulate that McKinley halls after all the other high schoolers were released when Season 5 moved full-time to New York. That's a lot to process in only…
Image: Adam Rose/Fox
Rumor: 13 episodes instead of 22
Reality: …13 episodes! That's right: most of the original cast will be returning in various roles, plus new high school characters starting all new arcs, and they're all expected to have fully realized stories in just 13 episodes. Since Season 1, Glee has been run 22-episode seasons; amongst all the huge changes, this just might be the biggest.
Image: Adam Rose/Fox
Rumor: 'Glee' has to change its name
Reality: Partially true; there was some hubbub going around in July that Glee would have to change its name due to a legal battle with Comic Enterprises in the U.K., which operates multiple comedy venues called The Glee Club. That would be huge, but it seems that the judge ruled the TV show's name will only have to change in the U.K.
Image: Adam Rose/Fox
Rumor: Karofsky is returning
Reality: All true, and very confusing! Max Adler is definitely returning in Season 6 to reprise his role as Dave Karofsky, the former former bully who kissed Kurt and later dealt with his outing and suicide attempt in Season 3. The return of Karofsky is exciting, as his storyline is one of the better handled sensitive issues in Glee's 5-Season run, but perplexing because even though Season 5 ended with Blaine and Kurt happily engaged, The Hollywood Reporter is reporting that "sources" tell them Karofsky might become romantically involved with Blaine. WHAT IS HAPPENING?!
Rumor: 1,000 Naya Rivera rumors
Reality: True, and false, and all of the above; after all the rumors of being fired, and feuding with Lea Michele, and not being fired, and not feuding with Lea Michele, Naya Rivera will be returning to Season 6 of Glee , just not as a series regular. Rivera will now a recurring guest star, as opposed to a series regular, a change made by her own request and honored by the producers.