The 'Sherlock' Box Set Is Kind of ... Unsettling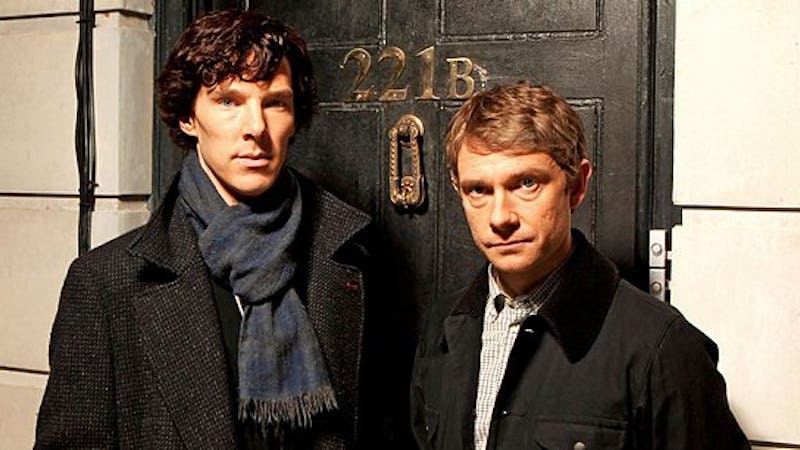 "You've got to be cruel to be kind" is, I'm convinced, the show motto over at BBC's Sherlock; the brilliant show starring Benedict Cumberbatch and Martin Freeman won't be returning for a fourth season until 2016. How dare showrunner Steven Moffat only give us three incredible episodes at a time and then fall off the face of the earth for literal years? I guess that's what happens when you decide to cast two stars that have so much else on their plate (Cumberbatch in like, ten movies; Freeman is literally THE hobbit).
But even the most hardcore, diehard of Sherlock fans who you shouldn't mess with probably would not be on board with the bonus material in the new Sherlock box set. On Wednesday the BBC released a very abundant, veryyyy pricy comprehensive Sherlock box set that includes 14 discs of material—all nine episodes, plus what is probably literal days of behind-the-scenes material; two artistic renderings of Cumberbatch and Freeman; and, for some godforsaken reason or another, two sculpted busts in the likeness of Sherlock Holmes and Dr. James Watson... aka, Benedict Cumberbatch and Martin Freeman.
Not sure what the British's propensity for making everything a museum-quality artifact is, nor what Cumberbatch and Freeman think of being immortalized en masse for Tumblr fandom fans to have... forever.
Why?
and also... why?
But I guess if you've got an extra 200 bones to spare, you can bag these beauties for yourself. "A Study in WTF?"
Images: BBC.