Comic Book Fans, Get Pumped About This Collection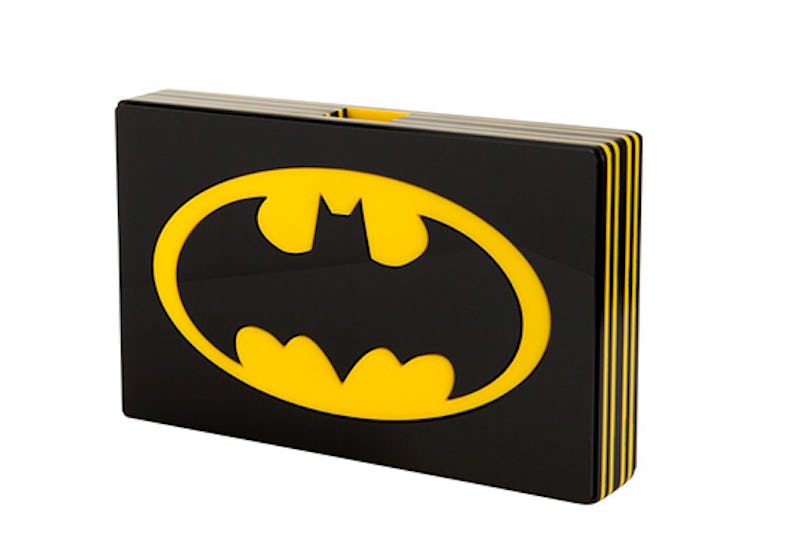 "Holy smokes, Batman!" According to Refinery29, there's a Colette x Batman collaboration on its way! The hip Parisian retailer is partnering with Warner Bros. on a collection to celebrate the 75th anniversary of the superhero's creation. I'm no die-hard comic book fan, but even I can appreciate the magic of superheroes colliding with high fashion and the (brief) first glimpse of this collection is certainly titillating enough to make me excited for the whole thing to drop.
Colette x Batman will offer a full line of clothing and accessories as well as skateboards (???) to help the stylish set pay homage to the Dark Knight. Refinery29 reports that the likes of Berluti, Yazbukey, Thierry Lasry, Anthony Vaccarello, and Eleven Paris have designed pieces for the collection, which so far includes a compact black and yellow clutch with the classic logo on the front, a pair of sparkling Poison Ivy-inspired earrings, and blue high-top sneakers. Sounds like just what a superhero lover needs to spice up her wardrobe this fall. Plus, there's not a drop of hideous latex in sight!
No word yet on prices, but be forewarned — Colette's wares aren't cheap. Back in 2010, the retailer partnered with DC Comics for their 75th anniversary. While some of the items were affordable — a Batman baseball cap from New Era for $46.77 — many of them, like a pair of Roger Vivier thigh-high Catwoman boots for $2,500, were well above the average Jane's price range. It's safe to say the Batman collection, which launches on October 27th, will be more of the same.
Image: Colette