Another 'Buffy' Reunion Happened!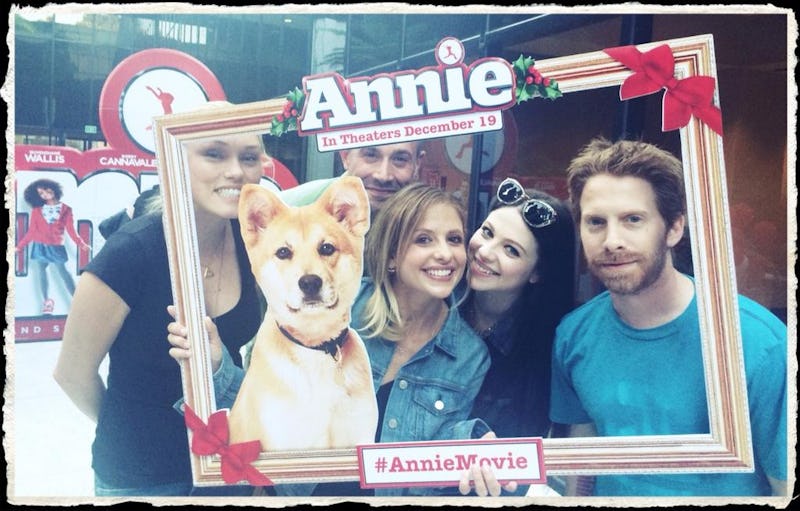 I swear, the Buffy the Vampire Slayer cast is collectively trying to kill me with these mini reunions. First, Sarah Michelle Gellar and Anthony Stewart Head linked up for the most adorable slayer/watcher selfie known to man, then Nicholas Brendon and Emma Caulfield hung out in Australia to give us a glimpse of what Xander and Anya's life may have been like if, you know, Xander hadn't left Anya at the alter and Anya hadn't died a grisly death during the last battle of Sunnydale. And now, Sarah Michelle Gellar, Michelle Trachtenberg, and Seth Green all reunited — Buffy, Dawn, and Oz themselves! — to celebrate Gellar's daughter Charlotte's birthday. At this rate, I'm going to have a coronary before the entire cast ever fully reunites in the future.
The circumstances of the reunion are sweet as well: Gellar hosted a private screening of the upcoming film Annie in honor of her daughter, and both Trachtenberg and Green were present for the celebrations. Trachtenberg was the first to post a few snaps from the event: One, with just her and Gellar, was captioned "#BuffyandDawn together again! Celebrating #CharlottesBirthday #DenimDuo #BTVS," while the other, featuring Green, said, "When #Buffy calls, #DawnAndOz answer #CharlottesBirthday #AnnieMovie." Who else has all the feels right now?
Gellar also posted a sweet shot of the three of them from the event/mini-reunion on Twitter, which also included her husband Freddie Prinze Jr., and Green's wife Clare Green: "@SethGreen @ClareGrant @RealMichelleT @RealFPJr #Maybe #Tomorrow will be a #hardknocklife but yesterday #easystreets."
Can there just be some sort of official reunion special, like, now please? This is too much to handle.