27 Incredible Plus Size Halloween Costumes For Your Fall Fantasies, From Elsa to Tracy Turnblad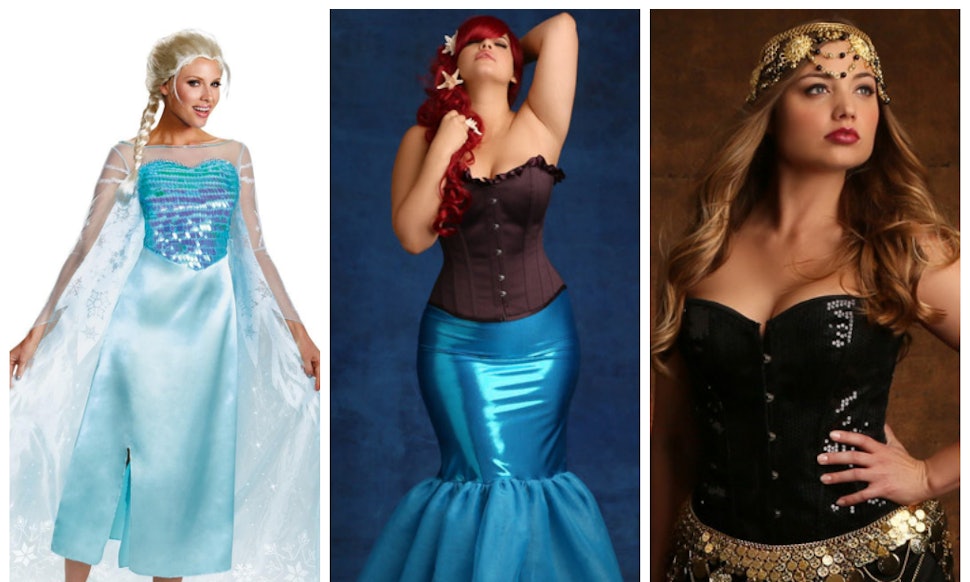 Halloween is about a lot of things: candy, friendship, preservation of a youthful spirit, celebration of the dead, more candy. But whilst all of these things are wonderful (especially the candy!), one of the most fantastical parts of the holiday is undoubtedly the dress-up factor. It's the only day of the year you can completely and utterly ditch your inhibitions and be whoever you want to be — whether that's a princess, a super hero or a half-naked school girl.
When I was a teenager (a chunky teenager, mind you), it was nearly impossible to find a costume in my size. I was limited to all of two or three options from the local shop's "husky" section (yes, it actually was called the "husky" section), and as a result I often opted out of Halloween. It seemed preferable to dressing up as a sack of potatoes. But these days, the options have greatly improved. And I mean greatly.
Plus-size fashion might still have a long way to go in terms of variety and abundance, but plus-size Halloween fashion is doing oodles better than it ever has before. You can be Elsa or Maleficient. A Care Bear or a Marionette. This is such an amazing day — a day to feel free and wacky and wonderful — and finally (can I get an "hallelujah?") designers are letting us plus-size babes partake in all Halloween costume shopping has to offer. Now, if only Halloween could be every day of October...
Mermaid Queen
Mermaids are forever the best fairytale creature, and this ensemble is pure perfection.
Mermaid Metallic Trumpet Tulle Skirt, $85, Hips and Curves
La Sirena Luxe Steel-Boned Corset, $150, Hips and Curves
Crimson Red Goddess Wig, $40, Hips and Curves
Esmeralda Re-Vamped
Our favorite gypsy heroine is a staple in classic literature, and this costume will truly bring her back to life.
Jeweled Coin Belt, $40, Hips and Curves
Jeweled Headband, $13, Hips and Curves
Sequin Corset, $65, Hips and Curves
Don't You Want Me Baby
The '80s is sort of the decade we love to hate, but this Halloween I'm voting we love it.
Angelina Jolie Incarnate
Because everything Angelina Jolie does is magical, and Maleficient is a prime example.
Disney Classic Evil Queen Costume Dress, $90, Torrid
Lady Robin Hood
Feel like stealing from the rich and giving to the needy? Or, at least channeling the classic hero who did?
Thief of Hearts Costume Dress, $46, Torrid
Anti-Halloween
I'm aware a lot of you aren't quite as into Halloween as I am, so perhaps opt for this "subtle" top instead.
Slutty Nurse Costume Graphic Tee, $29, Torrid
Burlesque Babe
You can totally look like Christina Aguilera in Burlesque or Nicole Kidman in Moulin Rouge with this elegant ensemble.
Adult Burlesque Body Shaper Costume Plus Size, $80, Party City
Dia de Los Muertos
Because as a Latina, I'm glad that mainstream Halloween is embracing the cultural relevance of Day of the Dead.
Adult Day of the Dead Costume Plus Size, $55, Party City
La Marionette
Who wouldn't want to be a beautiful wooden doll on strings?
Adult Pink Marionette Costume Plus Size, $50, Party City
Goth Anne
Raggedy Ann was cute, but Gothic Raggedy Ann is even better.
Plus Size Gothic Rag Doll Costume, $39, Halloween Costumes
Voodoo Babe
Halloween is the ideal time to brainstorm all your torturous fantasies, and this voodoo doll costume will make it all the more fun.
Women's Plus Size Voodoo Doll Costume, $55, Halloween Costume
Grumpy Bear
Let's face it: Grumy Bear is the best Care Bear.
Plus Size Care Bear Grumpy Bear Costume, $55, Halloween Costumes
Miss Kruger
Mrs. Flinstone
Because never was there such a lovable cave-woman.
Flinstones Wilma Adult Women's Plus Size Costume, $50, Spirit Halloween
Elsa
It's totally time to bring our new favorite Disney princess to life.
Disney Frozen – Adult Elsa Deluxe Plus Costume, $50, Costume Express
Cutest Insect
Dressing up as an insect never looked so good.
Midnight Dragonfly Adult Plus Costume, $20, Costume Express
Princess Peach
Super Mario Bros will always hold a special place in our hearts. And I for one always chose Princess Peach as my character.
Super Mario Bros – Plus Size Deluxe Princess Peach Costume, $60, Costume Express
Aurora
If you don't fancy playing the role of the villain (even though Maleficient is amazing) Aurora might be the way to go.
Maleficient – Aurora Deluxe Coronation Gown Adult Plus Costume, $45, Costume Express
Monster Bride
Halloween is about frightening the hell out of people, after all.
Monster Bride Plus Women's Costume, $150, One Stop Plus
Dorothy Revisted
Now more than Dorothy's shoes can be bedazzled.
Women's Plus Glittering Dorothy Costume, $50, One Stop Plus
Big Bad Wolf-ette
Sorry, but being a sexy wolf is kind of a fantastic idea.
Big Bad Women's Sexy Plus Size Wolf Costume, $47, One Stop Plus
Cupcake Girl
Cupcakes are a girl's best friend, don't ya know? Or maybe that's just me.
Cupcake Girl Plus Costume, $56, One Stop Plus
Mrs. Jack Sparrow
You may not be able to marry Johnny Depp (a gal can dream) but you can sure try to look like him. Or someone Jack Sparrow would be into.
Sassy Jack Sparrow Women's Costume, $36, Official Disney Costumes
Black Tie Affair
This is the only day of the year you can be half naked and still be considered socially acceptable, so why not embrace that?
Naughtier School Girl
Like I said, being half naked is ok today.
Alice From The Dark Side
A wicked take on the classic Alice we all know and love? Yes, please.
Tracy Turnblad