These T-shirts are Anything But Boring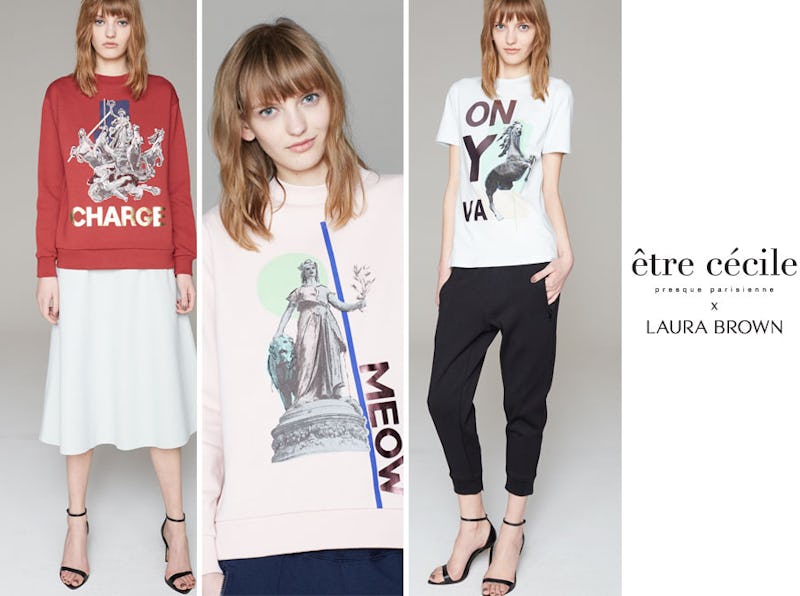 When fashion influencers get together to design a collection, the results sometimes fail to live up to our astronomical expectations. Not true, however, for Etré Cecile's collaborations with the Man Repeller Leandra Medine and Laura Brown, executive editor of Harper's Bazaar. In fact, I'd say these t-shirts and sweats exceeded expectations. They're that cool.
According to Refinery29, both collections were inspired by "the idea that people will always (ALWAYS) want to look French." Riffs on this theme include Medine's "Am I French Yet?" t-shirt and Brown's Grand Palais inspired graphic designs. Both ranges are fabulously tongue-in-cheek and would look amazing with the pleated maxi skirts and leather pants that are all the rage right now.
Medine's four-piece line of tees cost between $113 and $137, while Brown's sweats and t-shirts run from $129 to $210 depending on style. While not exactly cheap, I think you'd be hard-pressed to find wares better worth a splurge. After all, what could possible be more versatile than a killer t-shirt? And sweatshirts are so popular currently that there's no way you'll regret shelling out some serious cash for one that's Laura Brown-approved. They even have foil metallic lettering!
Check out some of the best designs below and stock up while you can!
Images: Etré Cecile