Did Kalinda Cause a Witness to Disappear?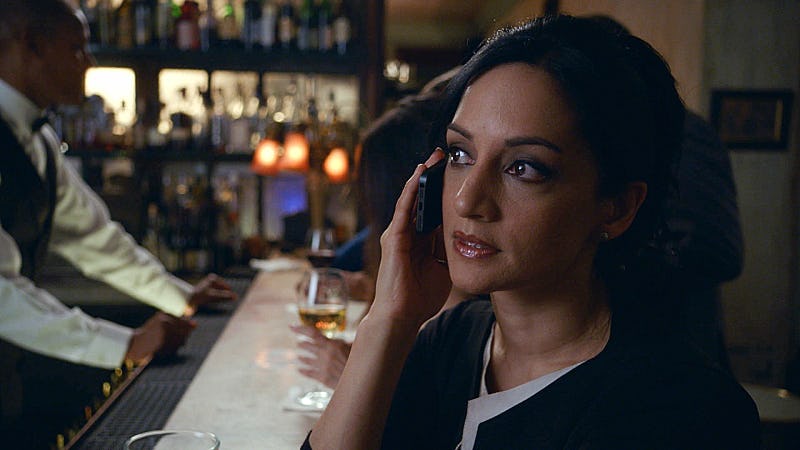 On Sunday evening, The Good Wife returned with "Dear God," the third episode of Season 6, and it raised an interesting question about Kalinda Sharma's involvement with Cary Agos' drug case. After being released from prison on bail, Cary's lawyer, Diane Lockhart, informs him that the key witness in the state's attorney's case against him has mysteriously gone missing. According to Diane, this is good news — the state's attorney doesn't have much of a case without Trey Wagner, a member of drug dealer Lemond Bishop's crew who was also secretly working as a confidential informant (CI) — but Cary looks uneasy. He remembers that Kalinda eerily told him recently that this whole CI situation was going to "take care of itself." Whoa.
Did Kalinda have something to do with Trey's disappearance?
I think so! First of all, assistant state's attorney Finn Polmar has a photo of Kalinda meeting with Trey shortly after Cary was released from prison — that's pretty incriminating. Second of all, Trey's wife testifies in court that a woman recently told Trey that someone was going to kill him. Yikes. Third of all, sometimes I think Kalinda believes that she's "above the law" — and in a weird, messed up way, I think she really does care about Cary. She doesn't want to see him locked up again. So, what did Kalinda do to cause Trey to disappear?
Diane tells Cary that she's not sure that Bishop knows which of his employees was working as a CI — but Kalinda knows, and she could have easily told Bishop if she thought that it would help Cary stay out of jail. Kalinda is fully aware of what happens to rats in Bishop's crew — they wind up dead. Is it possible that Kalinda told Bishop that Trey was the CI, knowing full well that she was essentially issuing him a death sentence?
At this point, I can't say for sure — but it certainly seems likely.
Image: Best Possible Screen Grab/CBS; Jeffrey Neira/CBS