These 11 Couples Finally Got To Say "I Do"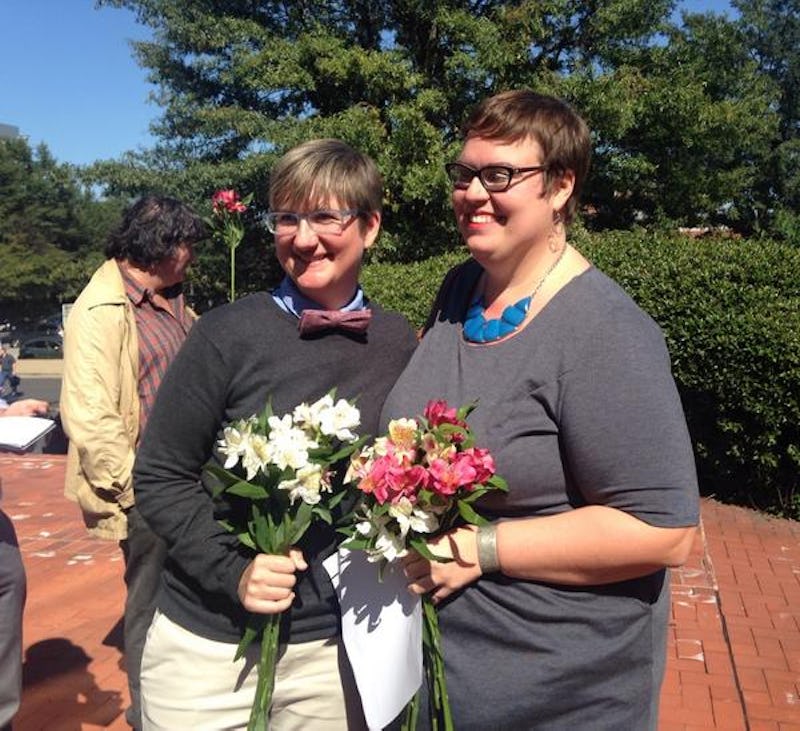 Same-sex couples in Indiana, Virginia, Oklahoma, Utah and Wisconsin rejoiced Monday when the Supreme Court refused to consider the five states' same-sex marriage victories' appeals. Its decision not to hear the case upheld the lower courts' initial ruling that struck down the same-sex marriage bans — making gay marriage legal immediately in all five states (at least, for now).
Though the Supreme Court held off on setting a national precedent on same-sex marriage — again, for now — gay marriage is now officially legal in 24 states. The same appeals board covers bans by six more states: West Virginia, North Carolina, South Carolina, Kansas, Colorado, and Wyoming — which, in line with this ruling, will probably also see their bans lifted shortly. This will make gay marriage legal in most of the United States.
The Washington Post reported couples began lining up outside of courthouses and city halls soon after the decision was issued, waiting to be married. According to photos uploaded to Twitter on Monday, many were so excited, they didn't take the time to change out of their normal clothes. Advocates came by to offer their support in the form of cheers, hugs, flowers and even free wedding photography for the happy couples.
Bet you weren't expecting this much joy in your Monday, right?
Image: Twitter/Kristin Smith