She Has A Lot of Great Projects in the Works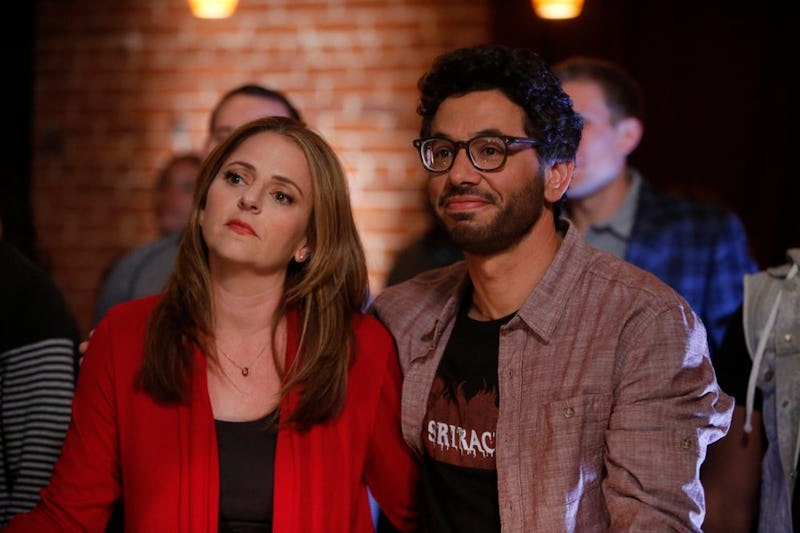 Jason Katims adapting a Nick Hornby novel should be the most heartwarming yet darkly humorous thing on television, which is why even after a mediocre first season, I think About a Boy deserves a second chance. But it's not just Minnie Driver and David Walton who should get all the attention. Since their story has to evolve slowly in order to supporting characters like those played by Annie Mumolo and Al Madrigal, as married couple Andy and Laurie, who can't agree if Walton's Will is a good man or an irresponsible man-child, are crucial to keeping the story interesting instead of burning through the plot of the movie in just a few episodes. In the About A Boy Season 2 premiere, Fiona becomes Laurie's doula when she finds out that she's pregnant, which will surely be the source of many storylines for Mumolo's uptight character.
But Annie Mumolo usually spends her time creating comedic characters, not just playing them. She cowrote Bridesmaids with Kristen Wiig and had a memorable cameo as the nervous passenger whose psychic visions send Wiig into a paranoid panic attack that hijacks the gang's trip to Vegas.
Since Bridesmaids, both Wiig and Mumolo have been focusing on acting, taking on film and TV roles. Mumolo appeared in Judd Apatow's This Is Forty (the movie wasn't great, but her small part was), and can now be found on About A Boy. Wiig is busy starring in The Skeleton Twins and showing up for a surprise Saturday Night Live cameo.
This summer, it was announced that Mumolo is writing a second comedy with Wiig, which Wiig is planning to direct. They still haven't dropped any clues about the film's subject yet, but it will not be a sequel to Bridesmaids. The new film will be produced by Tristar, and the only news we have so far is that "they will star as best friends who find themselves in over their heads and out of their depths, which were, perhaps, not too deep to begin with." That could describe pretty much any buddy comedy ever, but if it's even 1/100 as good as Bridesmaids, all of America including me, will be there on opening weekend.
And Mumalo wrote David O. Russell's next film — Joy, the story of Long Island mom, Joy Mangano, who created the self-wringing "Miracle Mop," an instant hit that turned her from a struggling single mother of three to a famous entrepreneur. Jennifer Lawrence will be playing Mangano. Mumolo's comedic chops will no doubt be a good fit for Lawrence and Russell's loose, improvisational style.
Images: Vivian Zink/NBC; Giphy (2)