Michael Waltrip is Making 'DWTS' Fans Angry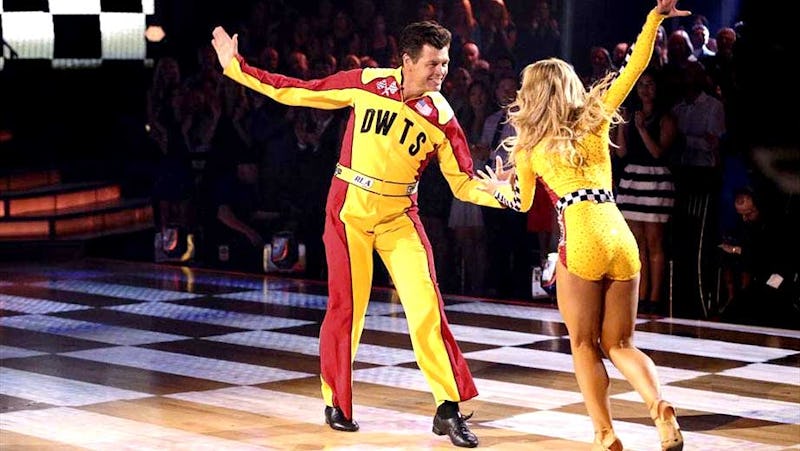 Another week, another elimination on Dancing With the Stars. Things are getting serious now and if you're not on your a-game, you may very well be sent home. Case in point with eliminated couple Antonio Sabato Jr. and Cheryl Burke leaving DWTS this week. I can't necessarily say they didn't deserve to go home, but it will be sad to see them leave.
Sabato had a lot of energy and heart and it was clear that each episode he was working hard to improve. Unfortunately, as with Jonathan Bennett's elimination last week, it was too little, too late. Sabato is an actor and a model, but he's just not a very good dancer—and that's OK. Fans still loved him and he had a great attitude on stage and off, so he'll be missed.
The main mystery is why Michael Waltrip is still here. After weeks of gimmicky numbers and relatively little skill, the NASCAR champion has managed to soar through the eliminations every time. I'm honestly just baffled. Fans on Twitter are less confused than angry, though. Many posted how they are fed up because each week Waltrip is safe, stars they care about are losing their spots instead. Last week it was Mean Girls' Jonathan Bennett who suffered and this time around it was Antonio Sabato.
But Sabato didn't have any hard feelings towards Waltrip or the judges. He had only kind words of parting saying that being on the show "meant the world" to him. "It's all about the fans," he commented after being eliminated. "That's why I'm here."
His fans will surely miss him on the remainder of the show, but at least Sabato left with a good attitude and a lot of one-of-a-kind dancing experiences.
Image: ABC