'Better Call Saul' Will Be At Least a Little Funny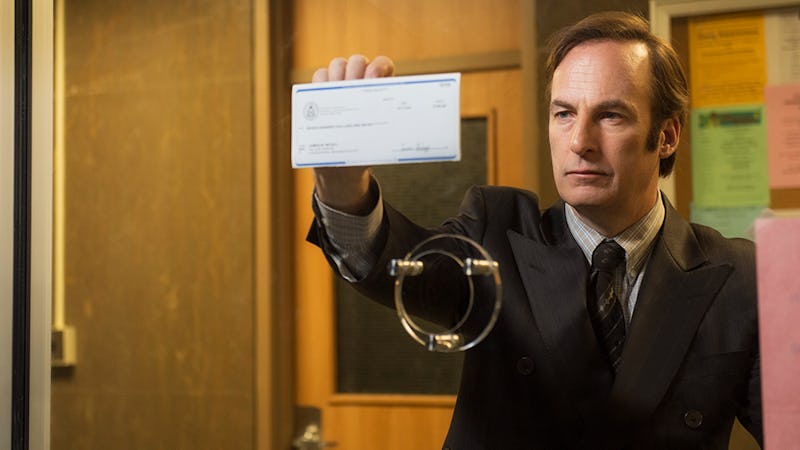 It seems a little weird to say that a show starring Bob Odenkirk, a longtime comedian, won't be at least a little funny, so I'm glad to see that AMC is at least fully aware of that when it comes to producing his new Breaking Bad spinoff series: According to The Hollywood Reporter, though Better Call Saul 's plot will be "total drama," series star Odenkirk did reveal that it's going to retain at least a bit of the dark humor component that worked well in the early seasons of its predecessor, Breaking Bad. "It's 85 percent drama, 15 percent comedy," Odenkirk told reporters.
Considering Saul was generally the comedic relief of Breaking Bad, this is really no surprise. His snappy comebacks, outrageous suits, and general sense for calling Walt out when Walt was getting too crazy were all invaluable components to the series, and I'm glad that Better Call Saul will utilize that all (hopefully) to its benefit. Odenkirk, after all, used to be a writer for Saturday Night Live — dude knows his comedy.
Plus, with all the darkness that Breaking Bad offered (a similar darkness we'll see in Better Call Saul, I assume), it was nice to have at least some comedic relief to distract from that — without it, a show about peddling meth would just be way too heavy to handle on primetime.
As previously reported, Better Call Saul will be somewhat of a prequel to Breaking Bad, and follow the character of Walter White's lawyer, Saul Goodman, before he met Walt and Jesse. Also, it'll include Mike Ehrmantraut (Jonathan Banks), which is pretty much already enough to sell me on the idea.
Better Call Saul will premiere on AMC in Feb. 2015.
Image: AMC