Demi's Mixed Messages About Playing Gay on 'Glee'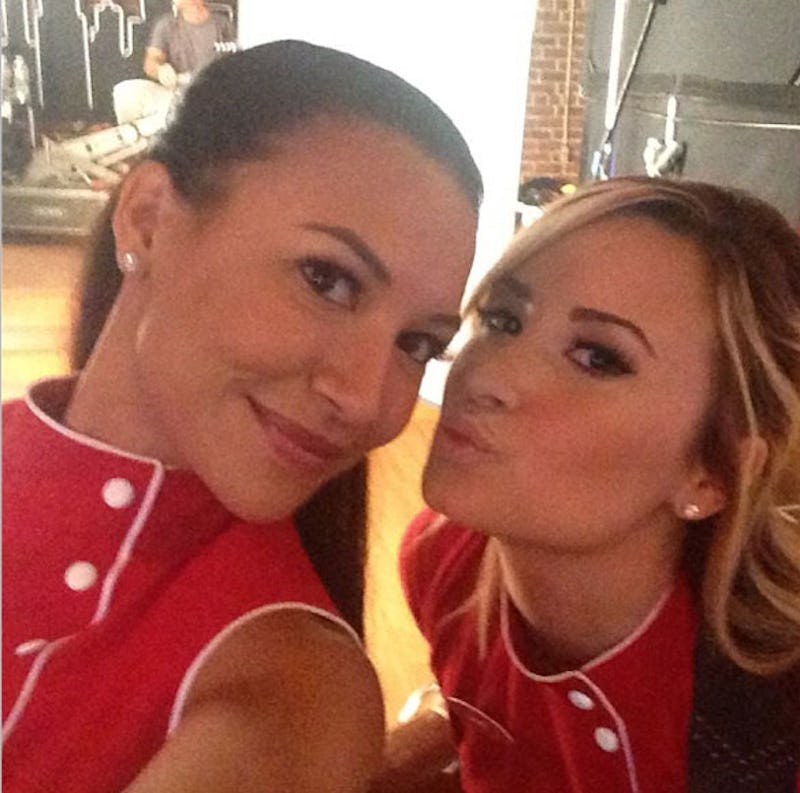 Demi Lovato is guest starring on Glee in a lesbian role, where she'll be playing Santana's (Naya Rivera) love interest. While it's great that Glee regularly features LGBT characters and a high-profile star like Lovato has signed on to play a lesbian role, she's sending some mixed messages with her views on the role. She told Ryan Seacrest on On Air With Ryan Seacrest:
I don't want people to take from this, 'Oh my god, Demi is kissing a girl.' I want people to take from it this is actually an incredible step in our generation today where I'm able to play a young lesbian on primetime TV…
And yet, Naya Rivera recently posted a photo on her Instagram of herself with the former Disney star posing with a "kissy" face. It might seem trite, but it does contradict exactly what Lovato told Seacrest. Lovato is correct — Glee is progressive in their diversity, featuring gay, lesbian, and even a transgender character. I just feel like Lovato's response and then her Instagram are at odds with one another.
And why can't Fox get actual LGBT people to play the LGBT characters on the show? Yes, Lovato is a star with a huge fanbase and the exposure will send a positive message to her fans, but there are other LGBT actors and actresses that could speak from a true experience.
The whole thing just feels a little bit glib.
[Image via NayaRivera/Instagram]