Lip Synching With Taylor Swift Looks Too Fun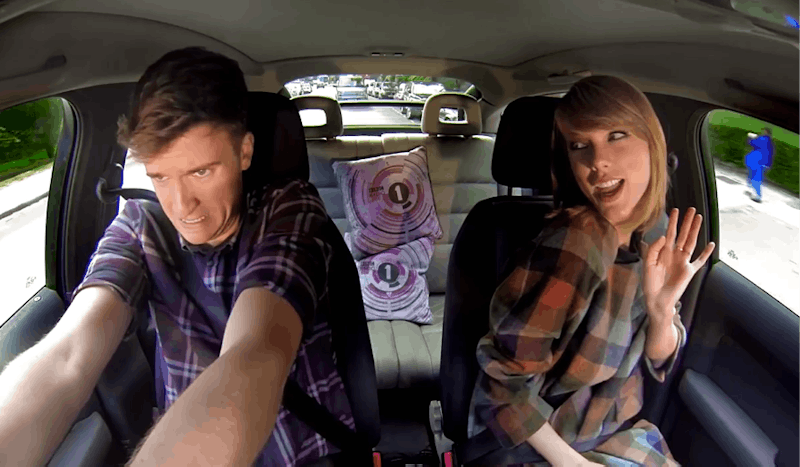 I'm not sure whether to geek out or call the cops for reckless driving, but either way I am a huge fan of BBC Radio 1's Greg James lip syncing "Blank Space" while driving with Taylor Swift. Just in case you have been living under a rock since Monday when Yahoo had a little snafu and accidentally released it just long enough for the whole world to freak out and make gifs, the music video for "Blank Space" has officially been released, and it's a game changer. Literally a game-changer, because an video game app is coming out based on the video. Which hopefully will be a lot safer than what Greg James and Taylor Swift were up to yesterday.
The video shows James, English radio and television presenter, driving along and minding his own business (on the left side of the car, naturally) while he listens and mouths the words to "Blank Space," and then adorably pans out to reveal Taylor Swift in the passenger seat. What results next is a lip syncing dance party to defeat all other lip syncing dance parties, and more than a few moments where you wonder if the DJ is actually driving. (Some YouTubers seem convinced that the car was on a moving platform, so let's all breathe a sigh of relief for the safety of EVERYONE IN LONDON).
Swift, of course, rocks out with the awkward dance moves we have all come to know and love, while James cringes pretending to be one of her many "victims". But I think the real purpose behind this video was Swift and James gently reminding us that no matter what side of the pond you're on, 'tis the season for wearing nothing but plaid because they're certainly rocking some. Check out their lip syncing shenanigans:
Image: YouTube