Spider-Dad Drops In On Cancer Battling Son's B-Day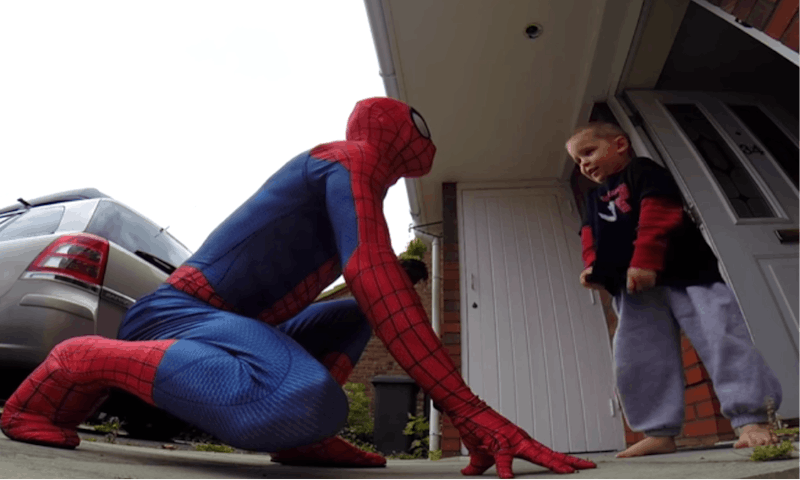 Most kids grow up with a superhero that they worship from afar, and if you were a cool kid (not that I'm biased or anything), that superhero was Spider-Man. But Mike Wilson, a parkour and freerunning athlete in the UK, proved that parents are the real heroes when he dressed up and swooped in as Spider-Man to surprise his son Jayden, who is battling cancer, on his 5th birthday. And after watching the video he took on a sneaky cam, I'm genuinely wondering if he pulled a fast one on all of us and is the real Spider-Man. I mean, this is a dad who literally jumped off a roof in a custom-made Spidey suit, and he expects us not to suspect his true identity?
His work and careful planning was well worth it to see the surprise and awe on Jayden's face at meeting Spider-Man. Jayden, who was diagnosed with a Grade 4 Brain Stem tumor last August, was expected to have a year to live, and although his condition is terminal, he has so far defeated those odds. Wilson frequently updates about Jayden on his Twitter page, and has launched a Hope For Jayden page on Facebook with a GoFundMe campaign in his son's name.
Jayden's Spider-Man obsession seems to be long-standing, based on this picture from his 4th birthday last year:
The most recent update on his condition is that the tumor has increased significantly and is resulting in a deterioration of his coordination. Hopefully his surprise visit from his favorite hero will lift his spirits during this difficult time for him and his family. You can watch Wilson defy gravity and step up the game for costumed parenting everywhere in this clip of him surprising Jayden on his big day: