How To Watch Tonight's Meteor Shower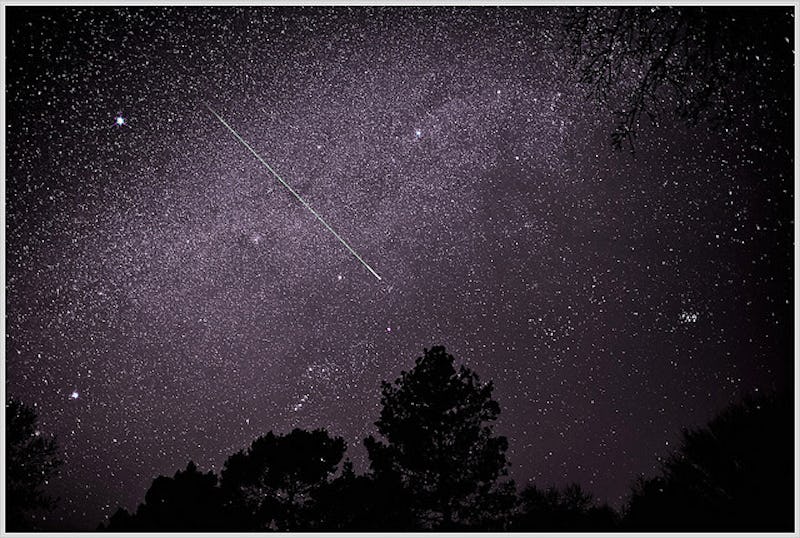 Good news for everyone's inner astronomy enthusiast: provided conditions clear up, the 2014 Leonid meteor shower should be visible Monday night into Tuesday morning, starting at about midnight EST and ending around 6 a.m. when the sun rises. According to Weather.com, the showers will be most visible in the central and western U.S., with some difficulty in the east due to thick cloud cover.
If you live on the East Coast, dawn may be the best time for viewing. Otherwise, everyone else should be able to catch 10 to 15 meteors per hour.
The current moon phase is also helping to optimize Monday evening's show. According to NASA, the waning moon means the sky will be darker, making the shooting stars more visible to the naked eye. Sweet.
The general instructions for optimal meteor shower viewing are pretty simple: head to places with as little artificial light as possible and a clear view of the sky. Give your eyes about 20 minutes to adjust, and avoid cell phones or any other light emitting devices so your eyes stay acclimated. Also, maybe bring a pillow because I can vouch from experience that looking up for a long time gets a little painful.
If you can't get outside, or live in a place with too much lighting, The Slooh Community Observatory and NASA's Marshall Space Flight Center will be holding live webcasts and answering questions posed to the hashtag #SloohLeonids on Twitter. Also, meteors are known to trickle into the days following a shower's peak, so, you might be able to catch some up until Nov. 30 as well.
If you're inexplicably trapped indoors for the next two weeks (NaNoWriMo perhaps?) and absolutely can't leave for any reason, the next shower, the Gemenids, will peak on Dec. 13. So there's enough space whimsy to go around for everyone.
Images: Flickr/gregness, Tumblr/Sci-Universe, Colors Of The Colorless, Here Is Nowhere (3)