'Girl Meets World': Where the 'Boy Meets World' Characters Are Now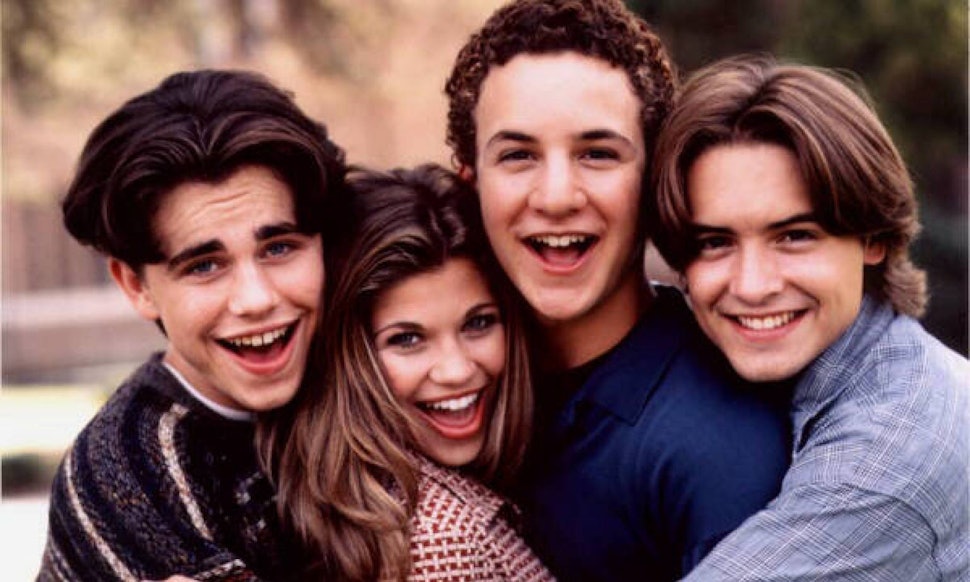 Thirteen years after 'Boy Meets World' left our television screens, we've been given a chance to revisit our favorite Philadelphians once again. Disney Channel has picked up spinoff 'Girl Meets World' to a series, and while we have learned what happened to Cory and Topanga, we're still left wondering about some of the couple's friends. Read on to see the confirmed fates of some of our favorite John Adams High School graduates, and our best guesses at where the others might be now. [Image: ABC]
Where Are the 'Boy Meets World' Characters Now?
Thirteen years after 'Boy Meets World' left our television screens, we've been given a chance to revisit our favorite Philadelphians once again. Disney Channel has picked up spinoff 'Girl Meets World' to a series, and while we have learned what happened to Cory and Topanga, we're still left wondering about some of the couple's friends. Read on to see the confirmed fates of some of our favorite John Adams High School graduates, and our best guesses at where the others might be now. [Image: ABC]
Cory Matthews, Back Then
Cory (Ben Savage) was the sarcastic, goofy, lovable dork that everyone could relate to. On 'Boy Meets World,' Cory struggled with being a mediocre kid who wasn't really good at any one thing. As a kid, he dreamed of playing Major League Baseball, but in college, he struggled with finding his calling. [Image: ABC]
Cory Matthews, Now
On 'Girl Meets World,' Cory is a history teacher at his daughter's school. It makes sense, seeing as he had such a strong role model in Mr. Feeny. Plus, remember that one episode where Feeny bet him that he couldn't be a better teacher than he was, and Cory actually ended up being pretty good at it (despite being only 11 years old)? Being his daughter's embarrassing teacher was practically destiny for Cory.
Topanga Lawrence, Back Then
Topanga (Danielle Fishel) was one of many victims of the show's unreliable memory. She started off as a hippie girl who was smart and a little out there, but once the show decided to use the character as a love interest for Cory, Topanga lost all the "weirder" aspects of her character and became The Girlfriend. Although Topanga remained an intelligent and strong woman, she ended up turning down Yale to go to college with Cory and get married. In the series finale, she and Cory go off to New York so Topanga can take an internship with a law firm. [Image: ABC]
Topanga Lawrence, Now
Topanga apparently gave up on her dreams of practicing law and owns a pudding shop that's a "cool hangout" for her daughter? Once again, the show doesn't really seem to remember who Topanga was before. Hopefully, this can just be a stepping stone in the show before Topanga achieves her real dreams. I mean, if Topanga can't become a lawyer, what does that mean for the rest of us?
Shawn Hunter, Back Then
Shawn Hunter (Rider Strong) was Cory's best friend from the wrong side of the tracks. He was a poor kid who got into a lot of trouble. Shawn never did well in school, but once he got to college he found he had an aptitude for poetry and philosophy. Deep and dreamy… no wonder Rider Strong was on the cover of 'Tiger Beat' so often. At the end of 'Boy Meets World,' Shawn went off to New York with Cory and Topanga while his girlfriend Angela went to Europe to spend time with her father. [Image: ABC]
Shawn Hunter, Now
Rider Strong will not be a part of the regular cast of 'Girl Meets World,' but he is in talks to guest star on the show. So what happened to Shawn? My guess: he became a published novelist and travels around the world with his longtime girlfriend Angela.
George Feeny, Back Then
Cory's teacher and neighbor, Mr. Feeny (William Daniels), was the wise oracle of the hallways of middle school, high school, and college. Kind but strict, Feeny had a lot good advice on life, but didn't seem to have much of a life of his own since he was widowed. Thankfully, Feeny found love and married the dean of the university in the show's final season. [Image: ABC]
George Feeny, Now
Feeny will be a cast member on 'Girl Meets World,' but his role is not specified. It would be pretty predictable for the show to make Feeny the principal of the school Cory works at, but give the poor man a break! He's been working as a teacher his whole life. Hopefully for Feeny, he and his wife have retired…but he still lives next to Cory, of course.
Eric Matthews, Back Then
Eric (Will Friedle) started off as Cory's hunky and superficial older brother who proceeded to get progressively dumber as the show went on. But this turned out to be for the better – once the cast got to college, the former ladies' man became a well-meaning idiot who provided much of the show's comic relief. In the show, Eric aspired to be weatherman and a good father, but he went off to New York with Cory and Topanga at the end of the show unsure of what it was he wanted to do. [Image: ABC]
Eric Matthews, Now
Will Friedle is not confirmed as a cast member on 'Girl Meets World,' but he has been spotted on set. It would definitely be fun to see Eric in his new role as a goofy uncle, and maybe he's even achieved his dreams of becoming a weatherman. Who knows – maybe he even has kids of his own who hang out with Cory's daughter.