19 Nostalgic Movies to Netflix If You're Snowed In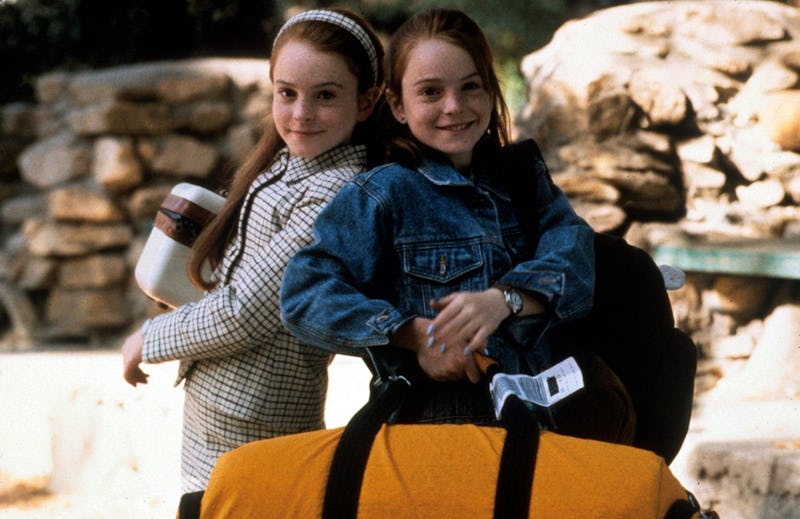 Just in time to ruin Thanksgiving travel plans, there's a crazy winter snow storm sweeping the east coast. Hopefully you're home safe already for Turkey Day, but if you're stuck at home — whether with your family or back in your own apartment far away — you'll need some entertainment for at least the next day or two. Thankfully, Netflix's nostalgic movies collection is here to save the day, and make you feel like a kid again in the process.
Imagine what you watched during snow days while you were growing up — some Disney animated movies and other comedies like Flubber at first, then Lindsay Lohan favorites like The Parent Trap and Freaky Friday as you entered your tween years, and then fun '90s and early '00s teen films like Can't Hardly Wait and She's All That in high school. You can stream all of those titles and many more while it's a winter wonderland outside, satisfying whichever period of your life that you're feeling nostalgic for. So curl up with a cup of hot cocoa or some chicken noodle soup, hunker down for Thanksgiving, and weather the storm. These movies will help you get through the worst of it.
Classic Disney Movies
Pochahontas, Mulan, Tarzan, and Aristocats are just a handful of Netflix's offerings.
Good Burger
It really is all that.
Flubber
Warning: this will make you wonder why nothing like flubber has been invented yet.
My Girl
Make sure you have a box of tissues.
Jumanji
Part scary, part adventure, all awesome.
I'll Be Home For Christmas
JTT is where it's at.
Grease
Again, the perfect singalong.
Annie
This will help prepare you for the remake.
Harriet the Spy
Before Buffy the Vampire Slayer or Gossip Girl, Michelle Trachtenberg was a spy.
Hook
The third Robin Williams movie on this list, because he defined your childhood. R.I.P.
Ella Enchanted
Anne Hathaway singing before Les Miserables, in a much less bleak setting.
The Parent Trap
You can just watch this on repeat forever, too.
Freaky Friday
Another swap for Lindsay Lohan!
Cadet Kelly
Classic Hilary Duff.
High School Musical
For young Zac Efron and his young love with Vanessa Hudgens.
She's All That
My personal favorite from this era.
The Craft
Maybe you can embrace your inner witch to get the snow to melt.
Can't Hardly Wait
Can't hardly wait to watch this one again. Ba-dum-ch.
Clueless
As if you'd watch anything else.
Image: Disney