Cleveland Browns Players Protest Police Shootings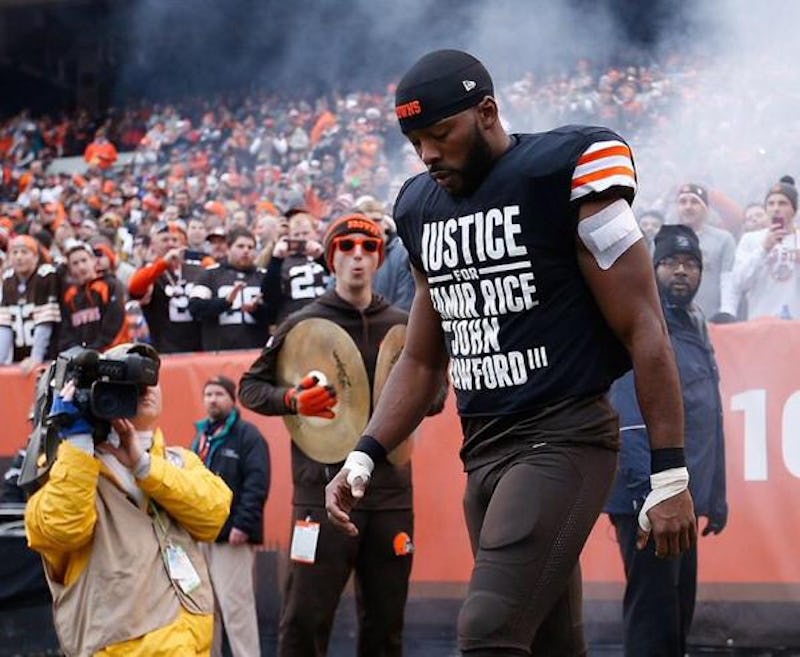 Another day, another high-profile act of public protest. With demonstrations active across the country in response to recent, controversial incidents of police violence against unarmed black men, it makes a lot of sense that many in the world of pro sports have been lending their voices to the dissent. In the NBA, t-shirts bearing the words "I can't breathe" have been sweeping through pre-game warmups in recent days. And Sunday, a couple more players from the NFL joined the effort — Cleveland Browns players honored Tamir Rice and John Crawford Sunday, coming out onto the field for their pre-game introduction wearing black shirts demanding justice for the two police shooting victims.
It's a particularly appropriate gesture for players from the Browns to be making — both the 21-year-old Crawford and the 12-year-old Rice lived and died in Ohio, with Rice being fatally shot at a public park in Cleveland. According to reports, at least two members of the Browns, wide receiver Andrew Hawkins and one other who hasn't yet been identified, took to the field with shirts stretched over the tops of their bulky, padded jerseys, with a simple and moving message: "Justice For Tamir Rice And John Crawford III."
They joined five players from the St. Louis Rams in making a public statement about incidents of police violence in their team's communities — the Rams players came onto the field with their hands up following the non-indictment of Ferguson police officer Darren Wilson last month. Whether Hawkins and his partner receive the same sort of scrutiny is yet unclear, however — the St. Louis Police Officers Association attempted to have the Rams player disciplined by the NFL, an effort which failed.
Rice and Crawford, despite their nine-year age difference, were both perceived as threats (wrongly, as was quickly apparent) because they'd been carrying airsoft replica guns at the times of their shootings. Indeed, when the police in the Rice case initially reported the shooting, they believed the 12-year-old may have been nearly as old as Crawford was — they estimated his age at "maybe 20." In both cases, the responding officers opened fire with almost no time to spare — in no more than two seconds in Rice's case, and an apparent matter of seconds in Crawford's, as shown by surveillance footage of both moments.
While both cases would be rightly harrowing and upsetting under any circumstance, the recent national awareness being shone on fatal encounters between police officers and people of color — with the Eric Garner killing in July not to be forgotten — has fueled an exceptional amount of attention, and that's a very fortunate thing. It's anybody's guess whether people would be examining these cases with the skepticism and diligence they deserve if it weren't for their visibly being kept so high, which is a huge reason why actions like Hawkins' and his teammate's really, really matter.
Image: RockawayYouth/Twitter