Sydney Natives: "This Doesn't Happen Here"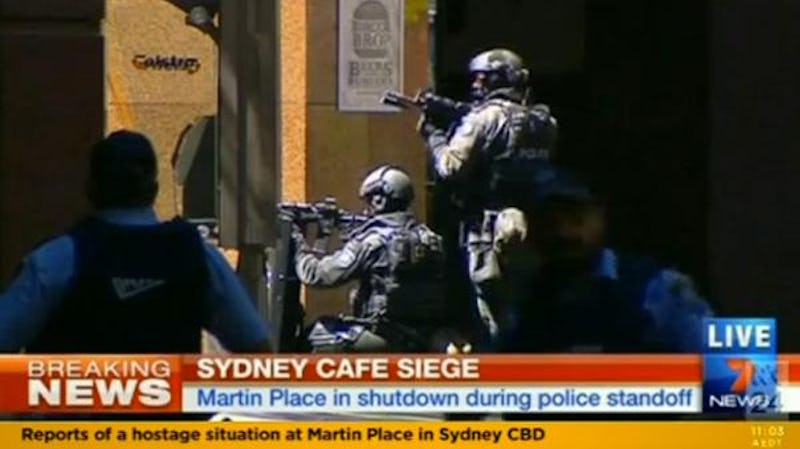 UPDATE: The gunman has been identified as Man Haron Monis. After several hostages escaped the store, police stormed the Lindt shop in Sydney's Martin Place. According to reports, Monis and two hostages have been killed, while four others suffered injuries.
EARLIER: The whole world was caught off-guard on Monday when at least one gunman took over a dozen people hostage inside a Lindt store in Martin Place, but perhaps no one was more surprised by the incident than those who live in Sydney itself. Though, across the globe, we've been witness to terrorist attacks in some of the world's largest cities, Sydney had yet to be targeted by those seeking to spread fear. Though Prime Minister Tony Abbott is urging Australia's citizens to remain calm while police respond to the possible terrorism-fueled incident (though authorities are hesitant to label it terrorism yet), many in the city have expressed confusion over the fact that Sydney has been threatened.
Following reports that a gunman had taken shoppers hostage — and that the Sydney Opera House was evacuated due to a suspicious package — citizens in Sydney and beyond flocked onto Twitter to respond to the situation, with most echoing one common phrase: "This doesn't happen in Sydney." Though it's impossible to know how it currently feels to be in Sydney, watching a serious situation unfold in a popular and public district, their incredulous words aren't entirely unfamiliar for those who have seen tragedy in their own hometowns.
Just a few responses from those living in Australia:
Yes, it's a sentiment we all recognize, but also a sentiment we remember feeling naive to have thought before we watched terrorism plague cities around the world. Because, though Sydney hasn't seen an attack since the mid-1980s (88 Australians, however, were harmed in the 2002 bombings in Bali), terrorism is a global issue — these tweets only remind us that no location — city, suburb, or otherwise — is safe from those who wish to do harm. One can only hope that Prime Minister Tony Abbott's words insisting that authorities "are well trained and equipped and are responding in a thorough and professional matter" are true, and the incident ends safely.
At this time, it's not clear who is responsible for taking shoppers hostage in Martin Place, but the fact that two hostages were forced to hang an Islamic militant flag in the store windows is leading many to speculate over the identity of the gunman.
The one thing we do know: This, sadly, can happen anywhere.