Got $294,038? Use It On James Patterson's Book!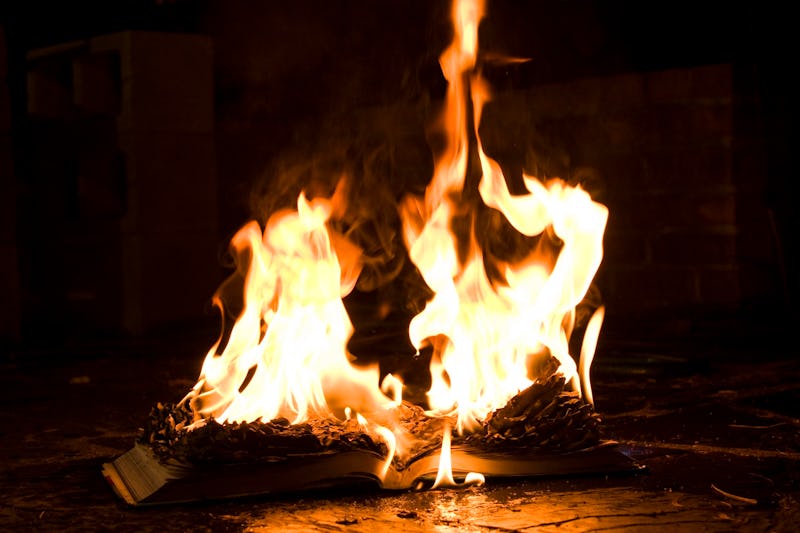 Reading books is an adrenaline-fueled experience not unlike bungee jumping off of a rapidly burning building. I mean, that's how I felt after hungrily consuming War and Peace's fast-paced prose. But I've also never actually been on a rollercoaster, so there's that.
If your own reading experiences haven't been as urgent as you'd like them to be, why not add life-or-death stakes into the mix? Also, you'll need $294,038. And you'll need to want to read a James Patterson book.
To promote his new book, Private Vegas , James Patterson is offering one lucky, loaded reader "The Self-Destructing Book Experience," which is exactly what it sounds like: the winner will watch the book self-destruct in a fiery explosion of sheaves (sheaves will be everywhere) — with the help of "a well-trained bomb squad" — 24 hours after receiving the book.
That alone isn't quite worth almost $300,000 though, right? Mother New York, the ad agency running the highly flammable show, has the rest covered: the winner will also be flown first-class to "an undisclosed location," in which she'll be able to frantically enjoy Private Vegas in "a splendid reading space including perfectly chilled Champagne." Not into the bubbly stuff? According to the site's FAQ, "an interesting-looking mixologist" can be provided to make martinis, instead. To top it off, the winner will join Mr. Patterson himself for a lavish five-course dinner.
Those of us who need that money for, say, student loans, will have to wait until January 26 for the non-exploding version's release. Alternatively, you can scramble to be one of the 1,000 people who can download Private Vegas for free, only to watch it disappear before your eyes 24 hours after the download.
Happy bidding, you crazy pyro kids. Watch out for your brows.
Image: Chris Makarsky/FlickrYouTube