11 Fall Pieces To Shop For Stat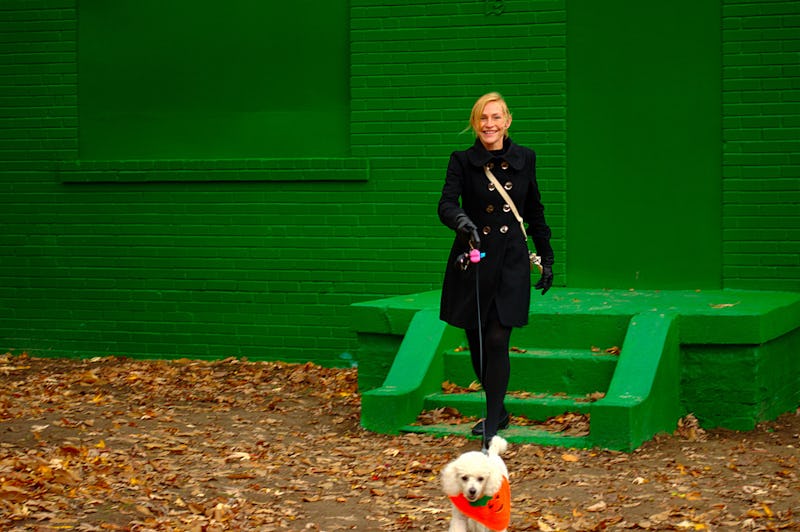 Much as we try to cling to summer's warm embrace, there's no denying the inevitable: cooler temps, added layers, and, oh yes, the reworked seasonal wardrobe. If you haven't already started the process of packing away the lighter fare in favor of chunkier fabrics and more covered-up proportions, here are a few things to keep in mind.
Restock with your perennial favorites, including neutral-colored tees, those dark indigo skinny jeans that go with everything, and make sure you pull back out the black leather jacket you splurged on last year.
Just because your well-loved boots look a little worse for wear doesn't mean they're necessarily done for. Find a cobbler and get them re-heeled. Same goes for that bag that got rained on — go to a "leather spa." And for that matter, don't forget to take all your coats to the dry cleaners. Good as new!
Know when to say goodbye to things that don't fit, and things that haven't been worn on the previous two cold fronts. Make the goodbye a little sweeter by donating to your local Goodwill or preferred secondhand shop.
Think about the "holes" in your closet: What needs to be replenished? Do you need a chic evening blazer? Are you due for a new set of cable-knit fisherman sweaters? Solidify that mental shopping list before heading straight for the trendier eye-catching pieces as soon as you enter your favorite store (online or otherwise).
Of course, with any deserving occasion — the autumnal transition among them — there's real justification in adding a few new bonus pieces to your fall lineup, too. Because, let's be honest, who doesn't love an exciting purchase to spruce up the existing clothing rotation? In case you need a starting point, read on, dear friends.
This trenchcoat can be worn three ways: as is, as a sleeveless trench dress, or as a cropped jacket. It would be fair to rename it, "the Transformer." (Storets Trench, $165)
For an accent that's equal parts prepster and luxurious, wear one (or stack a few) of these oxblood calf-hair bracelets. The hint of texture and rich hue have "fall" written all over this add-on. (C. Wonder Screw Stud Bangle, $48)
A classic ribbed sweater — light on the texture, but kicked up a notch where subtle details are concerned. You can wear this paired with a crisp oxford button-up, layered under a faux fur vest, or styled with your go-to jeans. (Madewell Elbow-Patch Stadium Sweater, $90)
You can play with the proportions of this season's It skirt silhouette: the fluted skirt. It's essentialness is in part because it's super-flattering on a range of body types. You can opt to show a little skin via a crop top counterpart; you can wear it with a tucked-in blouse and statement necklace; or you can dress it down with an oversized sweater and Chucks. (J.Crew Fluted Skirt in Double Crepe, $89)
The ankle boot gets a makeover every season, and while it's pretty hard to pick a clear favorite, these ankle-strap "cutouts" offer up a unique take on the traditional black ankle boot. (Loeffler Randall Franca Cut-Out Booties, $395)
It doesn't matter if you consider yourself an edgier dresser or not, this layering piece is just too cool to pass up. Tweed plus zippers plus frayed hems plus a go-with-everything fit, and you've got yourself a winner. (Rebecca Taylor Tweed Moto Vest, $425)
You can't go wrong with a structured bag. And because this particular iteration is black, pebbled, comes with a crossbody strap, and gives way to a sleek flash of metallic, it's pretty much guaranteed to be an accessory that bodes well for day and night. (Nasty Gal Roxanne Satchel, $68)
Not quite your standard fall dress, in that, it's a little slinkier, a little sexier, but right on point as far as the whole plaid-grunge-just-out-of-the-boudoir trend goes. While the turtleneck pictured doesn't come with, consider this your first styling tip. Or, for chilly nights out, style the dress with a leather jacket and booties. (Zara Lingerie-Style Studio Dress, $159)
If you haven't invested in an Equipment blouse yet, there's no easy way to say this, but... you should. This sweet polka-dotted version is surprisingly versatile — you can make it work with trousers and pumps or you can attempt something a little more Parisian-esque with a knitted vest and ripped-up jeans. (Equipment Signature Dot Print Blouse, $248)
Coated denim is a great way around squeezing yourself into leather pans — and it's a slick aesthetic to boot. The boyfriend cut gives the whole look a more relaxed feel, and when worn on a cool fall day, it will be glorious. Current/Elliott The Fling Coated Stretch Denim Jeans, $208)
Since the "no white after Labor Day" rule doesn't exist, I nominate these croc-embossed heels as a shoe-in for wearing in the colder months. It's definitely a bolder choice, and if worn with an LBD, you will ace the color-block look effortlessly. (Tibi Esther Heel, $435)
Image: imuttoo/Flickr