Dolce & Gabanna's Latest Show Is Pure Magic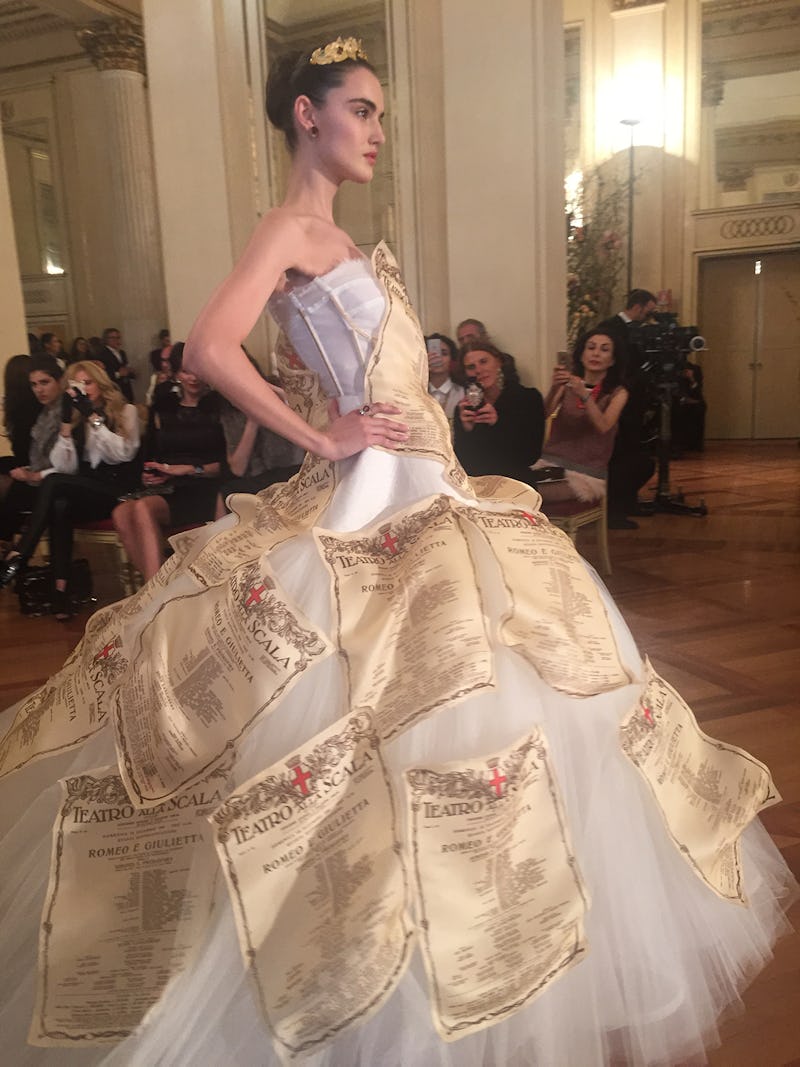 If there's one thing you can expect from couture Italian fashion houses, it's fantastical and exaggerated designs (despite Pope Francis's request that Italian designers start toning things down and opting for more sombre looks circa 2013). And if there is one brand that epitomizes this notion of more is more, it's Dolce & Gabanna. As evidenced by D&G's spring 2015 ready-to-wear collection — one filled with luxe tuxedos, bejeweled everything and kitsch embroidery — this Italian power house of fashion believes in pushing boundaries, toying with the gender binary and turning storybooks into reality. Their latest Alta Moda show at Milan's La Scala opera house is following suit, but this time, D&G has turned to ballet for its inspiration. And the end result is otherworldly.
Co-founder of Dolce & Gabanna Domenico Dolce told Vogue, "This is for dreaming... It's like food for the eyes." Having recently seen two productions at La Scala — Romeo & Juliet and The Nutcracker — Domenico wanted his creative team to echo the romance of classical dance. Thus the evolution of haute couture, ballet-inspired gowns, leotards, capes and vests. Each and every design (most of which feature at least a little bit of tulle) transports the viewer (and presumably the wearer) into a Shakespearean play. Or perhaps, into Tchaikovsky's Swan Lake. The ethereal quality is one that only the greatest of operatic or balletic masterpieces can evoke, and that is quite a rarity in the fashion industry these days. And perhaps it is that fact that makes this show so special — so fairytale-esque and unique.
The centerpiece of the show seemed to be the tulle gowns adorned in vintage La Scala programs. So with that, I think haute couture has reached a sartorial climax. And we can all die happily.
Images: Dolce & Gabanna/Hamish Bowles; Twitter