'Jurassic World' Super Bowl Trailer Is Released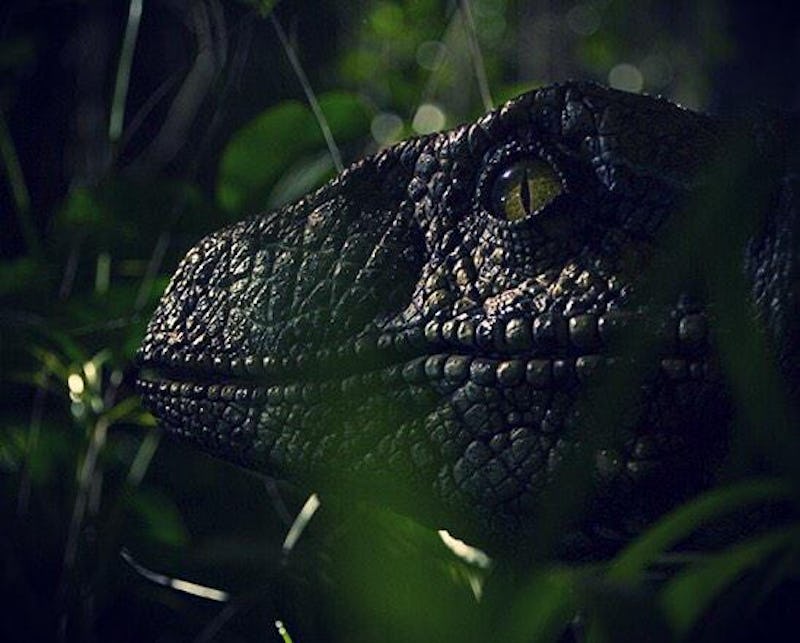 Put down your JELL-O and dust off your Jeff Goldblum sunglasses, because, at long last, Jurassic World 's Super Bowl trailer has arrived. And though we had seen a glimpse of the long-awaited sequel via its full-length trailer in November, two minutes and 40 seconds of footage just simply wasn't enough for us '90s kids eager to return to the land filled with terrifying velociraptors and even more terrifying khaki shorts. So, even though we can't enjoy Laura Dern's scary-bad fashion choices in Jurassic World, we can enjoy the handsomely charming talents of the sequel's star, Chris Pratt, who, in the Super Bowl trailer, shows he'll be a leading man at least as likable as the original's Sam Neill.
And really, in the Super Bowl trailer, there was plenty to compare to the original film and its sequels, even if it unfortunately didn't offer too many new pieces of footage. Not only did it feature a scene comperable to Jurassic Park 's famous T. Rex attack scene (complete with kids fielding the monster alone in a car), but a notable pterodactyl scene in the spot would remind any fans of Jurassic Park III .
Of course, we knew we would all wet our pants in excitement upon seeing the trailer on Super Bowl Sunday. That's because Jurassic World director Colin Trevorrow tweeted a still from the trailer on Saturday, building more anticipation for the big game than the Seahawks or Patriots themselves with just one simple word: "Tomorrow." What else can we say waiting for the film's June 12 release but, clever boy.
See the Jurassic World Super Bowl trailer below!
Image: @colintrevorrow/Twitter