Walter White's Esurance Ad Beats Lindsay Lohan's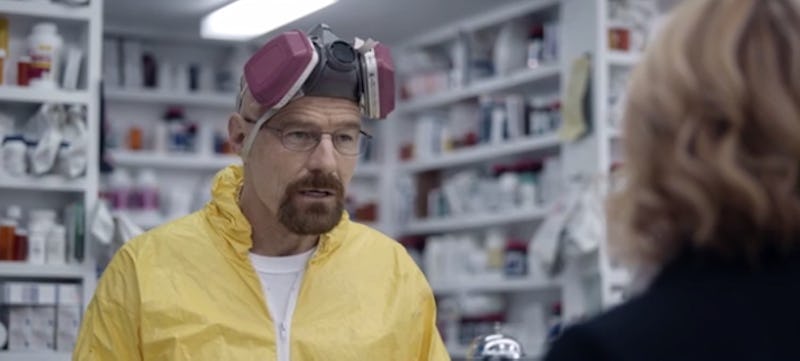 In the weeks leading up to the 2015 Super Bowl, the media heavily promoted Esurance's Lindsay Lohan ad, and why wouldn't they? After all, the former teen actress is typically quite good at commanding headlines, and, when it comes to Super Bowl ads, headlines mean some serious cash. But what is more confusing than the idea that Lindsay Lohan and Meryl Streep once co-starred in a movie is the fact that we heard nothing about Esurance's Super Bowl ad with Breaking Bad 's Walter White. That's right — almost a year-and-a-half after the AMC series left our TV screens, and just weeks before some familiar characters returned on Feb. 8's Better Call Saul , Bryan Cranston starred in an Esurance ad, bringing back the long-lost Heisenberg. And, in an era when secrets are impossible to hold on (just ask any politician in Washington, D.C.), the company managed to keep the ad completely under wraps.
In the spot, Cranston's Walter White is playing pharmacist, confusing a woman looking for the drug store's regular employee, named Greg. Says White:
I'm sorta greg. We're both over 50 years old, we both used to own a Pontiac Aztec, we both have a lot of experience with drugs. Sorry, pharmaceuticals. So, say my name.
"The dude that's so much better than Lohan." Oh, sorry, Heisenberg.
Now, if we were to see Walter White back in the flesh, I would have hoped we would have been privy to an ad with a tad more cleverness and many more Easter eggs than just a Pontiac Aztec. (Denny's?! How did you not snag your Grand Slam alum for a Super Bowl spot?!) But, then again, we'll take Heisenberg in any form we can take him. And it's certainly more bearable than seeing Lohan cash in on her depressing public image.
Still, it's impossible to not want more. Sigh, seems it's time to call Saul.
Watch the spot (an extended version!) below!