'LW: LA's Terra Jole Releases Another Music Video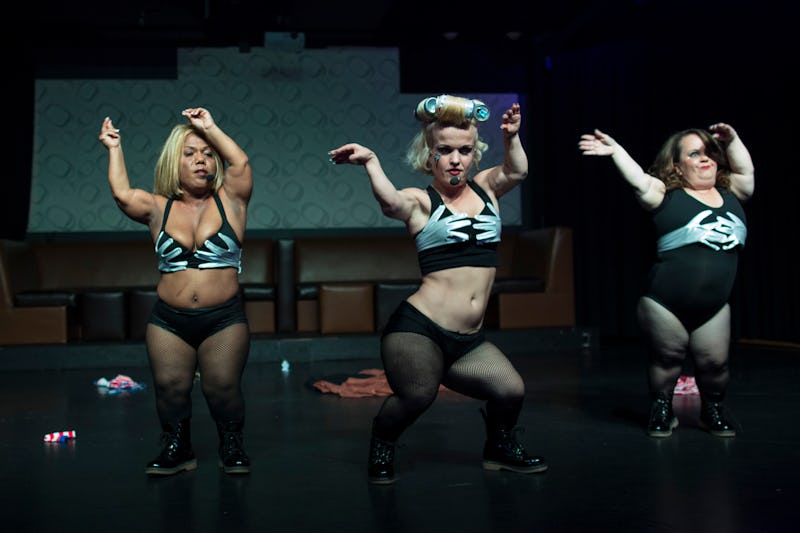 In my world, the song of the summer was Little Women: LA star Terra Jole's "Booty Bee," a hilariously good/bad dance song that symbolized that 2014 was the year of the butt as well as Nicki Minaj's "Anaconda" and was as self aware as "Let Me Take a #Selfie." Now, just in time for the Grammys (if not in time to win any Grammys), Terra Jole has a music video for her new single, "Ima Let You Know," that's takes her passion for social media and thick skin to online abuse and channels it into a true "IDGAF" anthem.
She's included her two BFFs, Tonya and Elena, in the video for a few minutes, but for the most part it's all Terra, rapping, leaning against a brick wall, and rocking a crazy gold jumpsuit that's reminiscent of her "mini-Britney Spears" days. Actually, a lot of the solo dance scenes and the treatment done on Terra's voice reminded me of a cross between Britney and Madonna. The gauzy wrap? Pure Madge. So is her rapping, which comes in the form of a half haughty, vaguely accented announcer voice.
It's like a music video representation of the Britney and Madonna kiss from the VMAs back in the day. Two pop styles, both wonderfully entertaining, combined perfectly for a moment that will go down in history as tasteless but wildly entertaining. Can't think of a better inspiration for Terra to be inspired by! It matches her wit and her willingness to do pretty much anything to be entertaining. Watch the video below.
She even works in a little twerking by the end, a little shoutout to her own "Booty Bee" video. And it's nice to see Tonya and Elena there — I wonder if we'll get the opportunity to see how things were behind the scenes.
Over the summer, "Booty Bee" became something of a minor hit on iTunes. And while "Ima Let You Know" probably won't go double platinum, hopefully it gets its due as an enjoyable throwback.
Image: Zach Dilgard/Lifetime