13 Literary Ladies Who Would Make Perfect Dates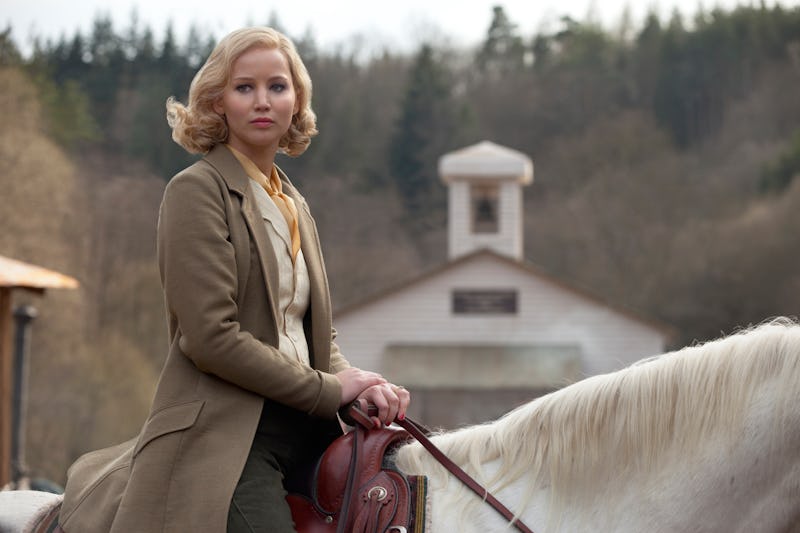 Looking for a date on Cupid's birthday? Because (like we haven't all been reminded at least a thousand times already) the big day of love is almost here. This is a truly sucky holiday for those who are single and not super-psyched about being single. It's just a bummer with all the pink hearts and jewelry commercials and the overpriced roses. What if you just like roses and want to spruce up your kitchen table? Now you have to deal with a 400 percent markup on a... flower? Ugh.
Well, finding the perfect date for this overhyped annual celebration doesn't need to be a stressful process, or even one that involves a real human being. No, I'm not suggesting purchasing a sex doll — unless that's what you're into, then by all means. Wouldn't it just be more comfortable and more fun to spend Valentine's Day with a fictional character with whom you love? You could spend the day reading the pages from which these literary ladies were born, or you could just envision what it would be like to date them.
Lucky for you, I took a lot of the guesswork out of it. Here are all the fictional women who would make THE BEST Valentine's Day dates ever.
Princess Cimorene, Enchanted Forest Chronicles
Cimorene has no interest in behaving like a proper princess. She's stubborn, she's tough, and she just wants to use magic, learn how to use her sword, and be herself. This kind of mindset is contagious, so a little time with Cimorene will have you giving yourself some well-deserved love and praise.
Tris Prior, Divergent Series
When she's not leading a revolution, Tris is a badass that uses her own fear as a way to solve problems and navigate tricky situations. She'd probably convince you to go bungie jumping or something else that's crazy-awesome.
Serena Pemberton, Serena
Serena is a badass, and a little bit scary. But if she loves you, she will do whatever it takes to protect you and the love you share. She would even kill for you, which is where the scary comes in, but I guess it's the thought that counts?
Jo March, Little Women
Her wild spirit and unwavering imagination make Jo a truly stellar fictional human. And her inability to keep her bold intelligence stifled would make for a seriously entertaining evening.
Cath Avery, Fangirl
Cath is a fangirl. But aren't we all, though? And when a soul recognizes its fandom counterpoint in another, isn't that what true love is all about... or something? Whatever. I'm saying that she could dish about her fandom and then you could dish about yours and everything would be perfect.
Claire Fraser, Outlander Series
Claire is kind but focused, warm but determined, and vulnerable, but also brave. She's basically a vibrant rainbow of emotions that she's also a brilliant nurse. Oh, and a generous bedmate... you know what I mean. So does Jamie.
Scarlet O'Hara, Gone With the Wind
So disgustingly spoiled, that Scarlet is. It would be easy to hate her, but she's too strong, too complex, too intoxicating to hate. As a date, she would infuriate you as often as she'd keep you guessing.
Louisa Clark, Me Before You
Louisa has the ability to find love in a hopeless place, that's for sure. But she's also selfless, caring, and all around amazing. Basically... she's a catch times infinity.
Lyra Belacqua, The Golden Compass
When a small, shy girl can easily tap into her inner liar and savage in order to survive horrendous circumstances, you know she's a keeper. That is what it will take to make it in an apocalyptic world, folks. And isn't that where we're heading? You need Lyra.
Becky Bloomwood, Confessions of a Shopaholic
I can see it now. Brunch in the morning, then head to the downtown shopping area for a quick retail therapy session. Then four hours later, you're sharing a cake with Becky and all of your gorgeous buys. #heaven
Katniss Everdeen, The Hunger Games Series
Katniss might not know what to do or how to act on an actual date, but that doesn't matter. Her presence is commanding and somehow humble all at once. Everything about the Girl on Fire is enchanting, and she could easily defend your safety and honor with her bow and many survival skills.
Bridget Jones, Bridget Jones's Diary
Whatever is going on in your life, Bridget will understand. That's because she often has a lengthy list of things about herself that she'd like to improve. Those flaws are also what makes her so endearing and relatable, so you could just be real and wonderfully flawed together.
Jane Eyre, Jane Eyre
After swapping childhood stories to get to know each other, you would fall in love with Jane purely based on her ability to stay sane despite the sh** hand she was dealt. But then there's the passionate, independent, spiritual side of her that would have you begging for a second date before the first one ended.