A Valentine's Day DIY We L-O-V-E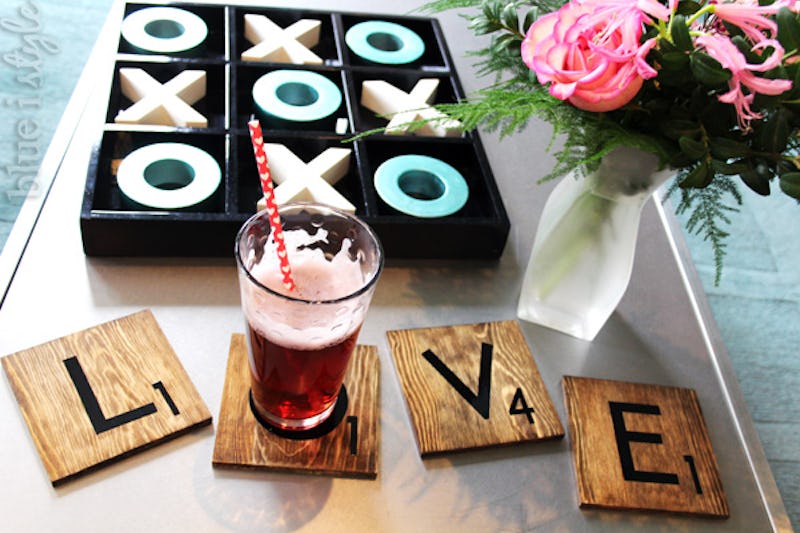 Looking for the perfect stylish touch for Valentine's Day decor? Perhaps you're searching for the perfect house gift for your best coupled up friends? These Scrabble-style L-O-V-E coasters, by Hometalker Angela of Blue i Style, are easy to make and ridiculously low-cost, but they look like they hopped straight out of a high-end home goods magazine!
Start by picking up four unfinished squares of wood from the craft store. Sizes may vary, but make sure your coasters are big enough for even the widest mugs. While you're there, pick up some stain or stain markers (much easier) in the color of your choice, wood sealer, large black letter stickers, and smaller black number stickers. Make sure the stain you choose isn't too dark, or the stickers might not show well enough.
1. The first step is cleaning and staining the wood pieces. Staining with stain markers is as easy as your classic elementary school scribbling (OK, a little bit harder), so it should take just a few minutes to coat all of your coasters.
2. After the stain is dry (being patient is worth it here), add your stickers. You can stay true to Scrabble by making sure your letters are paired with the right numbers, or decide your own point system.
3. For the final step, coat your creations in sealer, so that the condensation from glasses doesn't ruin your stickers or stain. After those dry, wrap them up in a pretty ribbon and they're ready to gift!
There's still time to DIY all your V-Day needs, so hop on over to Hometalk's Valentine's Day Ideas page for more inspirations, how-tos, and tips.
Images: Hometalk