How Jon Stewart Made Caring About The Issues Cool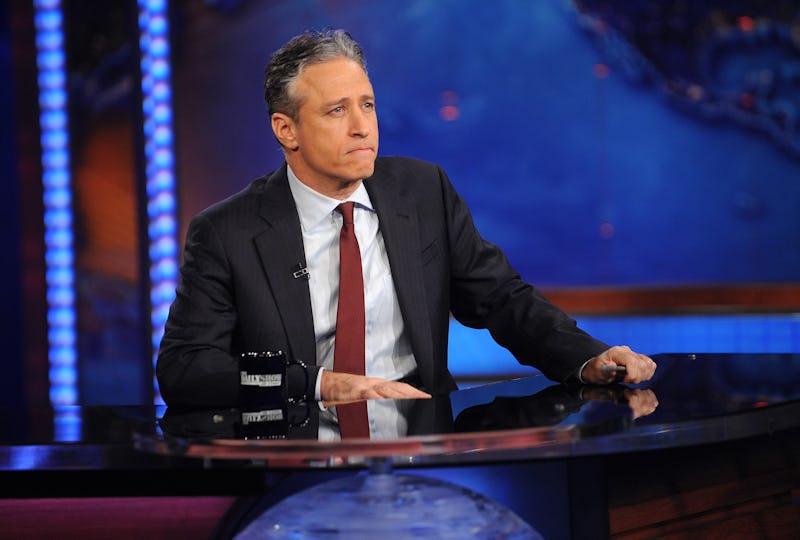 Only through a select few manipulations of the term could Jon Stewart be considered traditionally cool. Short, visibly anxious, proudly geeky, and clad perpetually in the class of suit that rings "Bar Mitzvah dad," the Daily Show host was hardly a likely candidate to reign over a generation of judgmental apathetics. Yes, he sprouted at MTV, the fulcrum of Gen X-era buzz, but he did not find his majesty until years later: long emancipated from the living room sofa and fuzzy TV that lined his erratically edited Jon Stewart Show set, seated stiffly behind a polygonal desk at a failing Comedy Central news satire program. This is where, at some point throughout his decade-and-a-half tenure, Stewart became an icon to a legion of dozing Millennials. This is where he redefined what could be cool.
Borrowing from the psychology (and body language) of Groucho Marx, Stewart seemed to figure out early on that the way to an audience's heart isn't by establishing yourself as the winner in every room — the way so many of his vilified pundits seem to operate — but as the loose cog in a broken machine. He never claimed to command, let alone belong, consistently distinguishing his work with the undercutting denotation, "fake news."
Stewart's victories would never transpire on screen, but through screen. A connection with all those likewise loosening cogs — seeing, in the eternally agitated comedian, their own image broadcast — forged via the only means powerful enough to hook an entire demographic: humor.
And this was no easy demographic to hook, let alone keep hooked! Stewart rose along with the industry of cynicism, ascending in popularity against the whims of a generation that believed that caring about any of the issues highlighted as incredibly important by he and his writers and correspondents was a practice not only futile, but yards out of vogue. The Daily Show's successful navigation of this tricky terrain was not by virtue of fortune alone — Stewart took advantage of this cynicism. He knew it, he felt it, and he figured out how to mine it for all the vim it had therein. And then he turned it to into something special.
The Daily Show fandom didn't leave its viewers wallowing in the malignant distaste for the establishment that brought them to the show in the first place; it turned its viewers, never willing to give up a stake in the ennui, into bona fide activists. A community was fostered under Stewart's reign. Young viewers tuned in nightly to render The Daily Show America's premiere news source. Fans of the host and colleague Stephen Colbert traveled to Washington D.C. to vocalize an impassioned play at genuine change… which began to show. People started caring again, because Jon Stewart showed them — us — a cool way to do it.
Stewart leaves us better than he found us: impassioned and informed. Forlorn over his departure, but excited over the question of who will carry on his legacy, who will foster his brand of progress from here on out.
We're excited about the future of The Daily Show, about former guest correspondent Larry Wilmore's new program The Nightly Show, about former regular cast member John Oliver's thriving HBO show Last Week Tonight, about old friend Stephen Colbert's forthcoming seizure of The Late Show, and, of course, about everything that Stewart himself is gearing up to deliver to the world from this point forward.
We're excited about the prospects of these entities, about what we now know they can do for our generation and all those to follow.
At long last, we're excited again. And we can thank Jon Stewart for that.
Images: Comedy Central (3)