This 'Idol' Hopeful's Exhaustion Hurt His Audition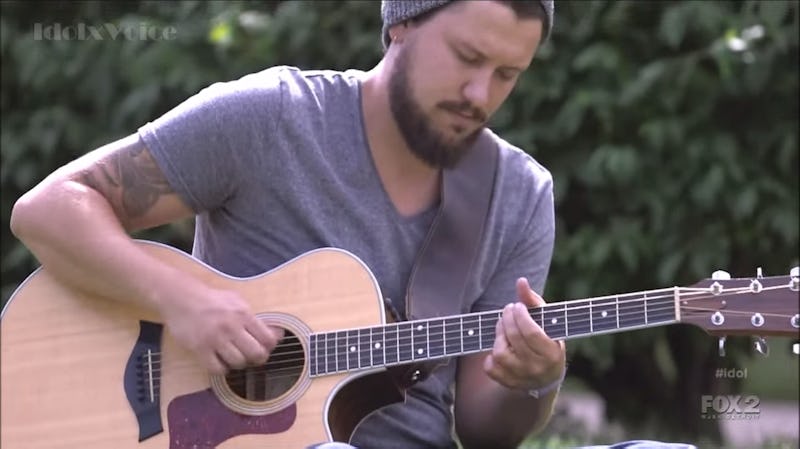 The entire theme of Hollywood Week has been no sleep. Sure, contestants are practicing around the clock to give the audition of their lives — but what happens if they become famous? Get over it, people — you can sleep when you're done with Idol. One contestant who was really feeling the exhaustion this week was Minnesota native Mark Andrew. Andrew's lack of sleep was evident in his performance, but, despite a few negative comments, the judges ultimately sent him through to the next round.
Andrew has put his life with his wife and three-year-old son on hold to pursue his dream and give them all a better future — and at age 29, this is his last chance to do it. But he almost blew it with this performance. Andrew stumbled through his rendtion of "Skinny Love" — and even forgot the words — after he ditched his guitar at the last minute. It was a pretty rough performance, especially since the rest of the performers brought their A-game to solos. Andrew got extremely lucky by getting a second chance from the judges. They forgave Andrew for the mistakes, though, because his voice is so unbelievable — and it totally is. He blew me away with a lackluster performance, so I can only imagine how great he would be when he's giving his all.
Andrew's audition begins at 1:11
The judges made a great point, though, after noticing how tired all these contestants were. The stress, hectic schedule, and lack of sleep doesn't end with Idol. Celebrities work around the clock — they go from concerts, to commercials, to interviews, to photo shoots. How are these contestants going to fare if they make it? Sure, once they get used to it they would do fine. But, if they complain now, the judges are going to weed them out quickly - whether or not they can sing. Hopefully Andrew can pull his act together, because this was his last free-pass.
Image: YouTube - IdolxVoice