9 Hilarious Things Politicians Have Said
He's known for his "Bidenisms" — awkward but funny statements where you truly don't know whether to audibly guffaw or side-eye the person next to you in a "what the hell is he talking about?" kind of way. This time around, in what was apparently an '80s slang reference, Joe Biden called out his "butt buddy" during a speech in Iowa. According to New York Magazine's Daily Intelligencer, the phrase means exactly what you think it does: friends who are so inseparable that they're probably "doing it."
Now, I know I grew up in a different time than Biden, but back in my day, the phrase meant the same thing, but had a much more negative connotation because of its implications (thanks, society). Obviously Biden and his good buddy, Neal Smith, either didn't care that it implies they're gay because they're chill and open like that, or just somehow didn't know the meaning behind the phrase. Whatever the reason is, I've got to hand it to Biden for always doin' his thang and saying what he wants.
Bidenisms aside, there have been so many cases of politicians being hilarious throughout history. Sometimes they might not have meant to be funny — like Bill Clinton's "I did not have sexual relations with that woman." Other times it's not actually funny, but the context or the person saying the phrase makes it amusing — like Sarah Palin's "You betcha!" (Can I fully admit here that I have said "You betcha" more times than I can count, which makes me think it must be some sort of peculiar Alaska saying?) But there's a treasure trove of entertaining expressions from politicians, and these are just a few of them.
George W. Bush
On what we're all thinking: "Are you having burritos for lunch?
Bill Clinton
On philosophy (right?): "It depends on what the meaning of the word 'is' is."
Joni Ernst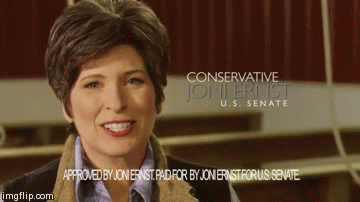 On using her childhood lessons: "I grew up castrating hogs on an Iowa farm, so when I get to Washington, I'll know how to cut pork. ... Washington is full of big spenders. Let's make 'em squeal."
Abraham Lincoln
On self-deprecation: "If I had two faces, would I be wearing this one?"
Joe Biden (again)
On being excited about health care: "This is a big fucking deal."
Sarah Palin
On what she likes to read: "I've read most of them ... All of 'em, any of 'em that have been in front of me over all these years."
Mitt Romney
On looking for qualified women to hire: "And they brought us whole binders full of women."
Barack Obama
On just tryna do his thing: "Can I live?"