Boyfriend Turns Girlfriend Into A Disney Princess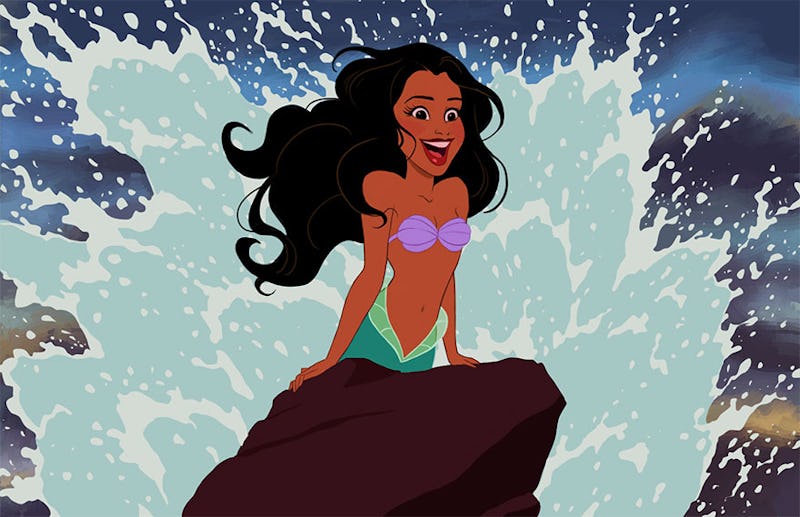 I know it's Valentine's Day weekend, but I want you to forget everything you thought you knew about timeless love stories. Disregard The Notebook, banish The Titanic from your brain, and seriously don't even bother with Pride and Prejudice, because no amount of feels that you seek this weekend will top the crushing win of this boyfriend who turned his girlfriend into a Disney princess for Valentine's Day. Sorry, correction: not a Disney princess—multiple Disney princesses. Pretty much the wildest fantasy I never knew I had until just now came true for this couple and I can't get enough of it.
Aspirational couple Brian Flynn and Manini Gupta frequently bond over their mutual love for the Disney movies that they grew up with, which is what led Flynn to approach artist Dylan Bonner, who then set upon the feat of drawing the pair of them into every iconic Disney love scene you can imagine. Could this gift be any more perfect?! Let me go ahead and answer my own question: No. And poor Brian will probably have to deal with the fact that he'll never be able to top this for the rest of his life, because honestly, I can't think of anything more romantic for a Disney-phile than this.
Apparently, Flynn has been keeping this a secret from his girlfriend for three months, which is two months and twenty-nine days longer than I probably would have lasted in his shoes. Bonner designed each of the images from scratch, re-working the princesses to make sure to get the resemblance just right while also staying true to the original scene. I think we can all agree he did a pretty damn good job of it. Here are all the princesses Manini will play this weekend, including real picture of the lovely couple for reference (you'll see their dog Willa also gets featured in Tangled!):
Images: Imgur