These Undies Have a Little Secret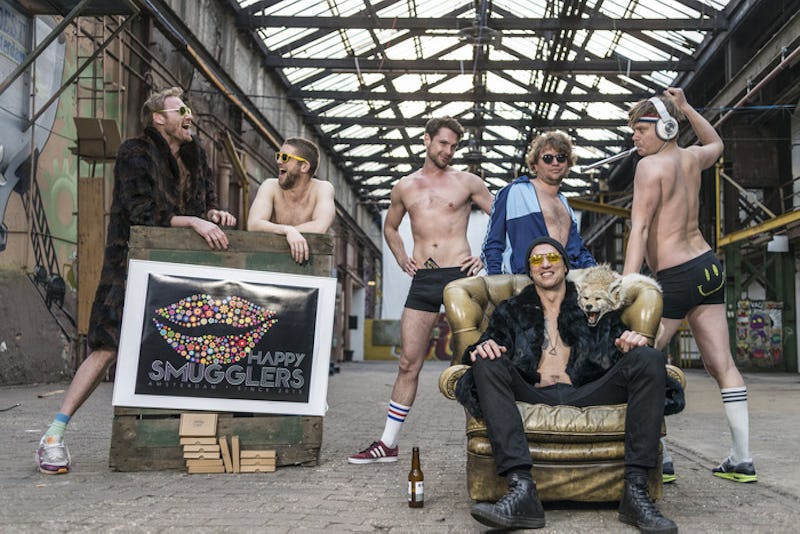 Proving that the Dutch really know how to party, enter Happy Smugglers, the latest in festival attire, designed by four friends from Amsterdam. We're not talking about your typical flower crowns or boho fringed tops. No, Happy Smugglers is all about what goes on under your flawless Coachella outfit. And these aren't your typical under garments — they have a pocket for storage, allowing you to discreetly carry your, um, party essentials. With these underwear, you can "put your stuff in it, and you can also put stuff in it," if you know what I mean.
These are meant to conceal, but unlike Commando or Shibue Strapless panties, they're meant to hide more than just your panty lines or privates. Come on, it's a pocket for your underwear! The possibilities are practically endless. Happy Smugglers are great for those moments when you're not wearing much else besides your knickers and you have some stuff you need to stash (wink, wink). They even feature a giant smiley face design so you'll be the happiest one around, knowing everything you need is safe and sound. Now, aren't you stealthy?
"Help us with our underwear and we'll help you with underwear you can store key things in, even when you're not wearing anything else! If you back us NOW on our quest for the ultimate festival item you will not only have amazing underwear, you will also be part of a happy movement," says the brand's Kickstarter.
The only thing is, as of now, Happy Smugglers are only available in men's sizes. But hey, with unisex being a trend right now, there's nothing stopping the ladies from taking part in the action. We could all use some extra storage, am I right?
Back the Happy Smugglers and pledge before March 8th to get your hands on your very own pair of secret compartment underwear by May — just in time for festival season.
Images: Kickstarter (2), Happy Smugglers