Miley Cyrus Was Prominently Featured on 'SNL 40'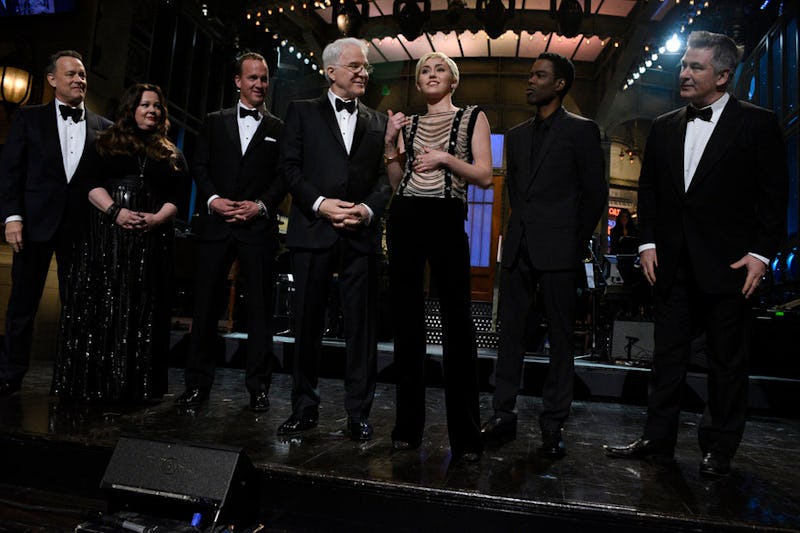 The SNL 40th Anniversary Special was more focused on the past sketches than musical performances, but when a live performance did happen (if you don't count Paul McCartney and Paul Simon early on in the night), the artist who performed was surprising. Miley Cyrus sang during SNL 40 and if you weren't taken aback enough by her presence among those greats, she sang the Simon song "50 Ways To Leave Your Lover." Simon was the second host ever of Saturday Night Live after George Carlin (and he performed on the second episode with Art Garfunkel too). As a serious Simon & Garfunkel fan, I wasn't sure how to feel about Cyrus tackling a Simon song , but I must admit — she didn't do a bad job.
Backed by a band (which including Fred Armisen on tambourine), Cyrus wasn't up to her tongue-wagging Bangerz antics during her performance. Cyrus had already appeared in the cold opening of SNL 40 with superstars like Tom Hanks, Melissa McCarthy, Peyton Manning, Steve Martin, Chris Rock, and Alec Baldwin. (Hm, that's a pretty male-centric list.) They made sure to reference that Cyrus had not only been a musical performer, but also a host — just like Simon. (I cannot believe I'm comparing Cyrus to Simon right now.) Watch the performance below.
But not only am I glad a woman musical artist got to perform on the show (and do a good job), I'm also glad that Simon got an extra boost of recognition as he deserves. So, good job, Miley. Can you do performances like that more often?
Image: Dana Edelson/NBC