This Is The World's First Drone Light Show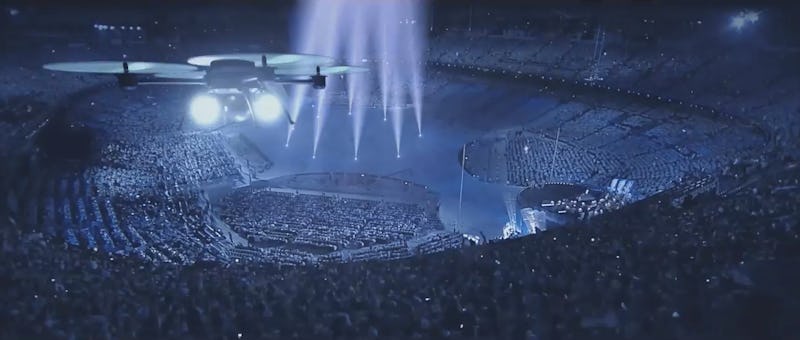 Sci-fi fans, get ready to book your tickets to Amsterdam. The Dutch city will be the first in the world to host a Cirque du Soleil-style circus using nothing but drones. Aptly called Our World of AIR, the light show will feature drones equipped with lasers and projectors, which will create an immersive 3D experience the likes of which spectators have never seen. And that's a promise, because where else have you heard of an entertainment show orchestrated by nothing but flying robots shooting lights and lasers?
According to the official site, which uses a font and aesthetic similar to the sci-fi classic Tron, AIR is "the first ever drone entertainment show in the world." The site makes the show sound unmissable:
In this high energy and explosive show, drones will take centre stage to bring a collaboration and fusion of music, video, projections and special effects. AIR allows you to experience a variety of ballet and battles, races and lasers, circus, illusions and most of all magic from hundreds of drones.
Basically, it is every gamer, cyber geek, and computer geek's dream. Organized by Dutch entertainment company Fjuze in partnership with the Royal Netherlands Air Force, AIR will light up Amsterdam Arena, the largest stadium in the country that is normally used for sporting events and concerts. Event dates have yet to be announced, but the website states that tickets will go on sale soon and encourages those who are interested to sign up for the newsletter for updates.
Still not convinced that an all-drone light show is worth seeing? AIR made a promo trailer for the show, which will definitely change your mind.
It opens with the quote: "Imagination is the beginning of creation." Already some pretty heavy stuff and we haven't even gotten into the holographs yet.
Next we're flying through the clouds as a ominous voice tells us to "Take a deep breath." Um, OK? Now I'm getting nervous.
Now we're flying over the ocean as the man with the husky voice says, "Open up to new possibilities" and a drone flies by.
"There's sensation in innovation." Preach.
Then he's announcing, "This year we bring you a show without artists, a show without stages ... welcome to the world premiere of AIR."
Then comes the full-on visual assault.
Flashes of drones flying through the air, shooting laser beams, creating holographic effects, and even fireworks are interspersed with captions like "Ballet & Battles," "Races & Lasers," and "Circus & Illusions."
It looks like the trippiest light show ever created.
At the end, the man with gravitas says, "AIR — rise with us."
Did you just get the chills too? Watch the video below.
Images: Air 2015/YouTube