How To Do Spring Break When It's Freezing Cold Out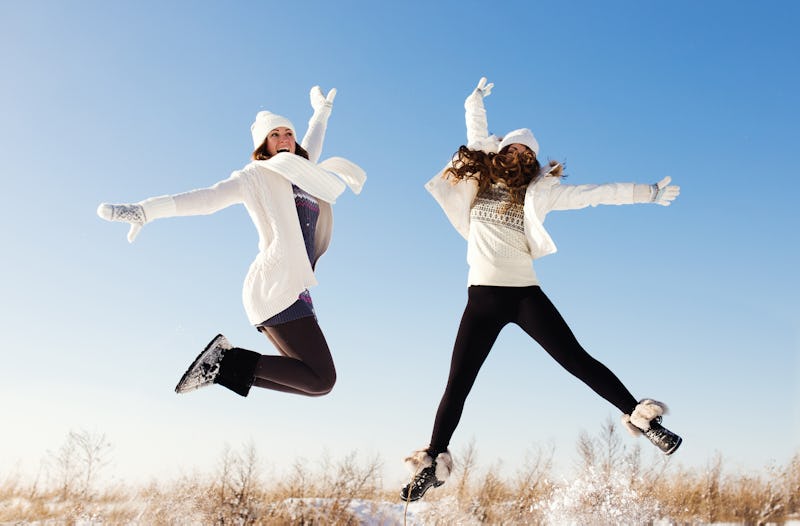 There's really only one way a spring break trip is supposed to look: tropical setting with bright colors, lots of booze, and hot bodies everywhere. That is what MTV taught us back in the '90s when music videos were still a thing — that there'd be a one or two week period of sexy, drunken shenanigans with lots of dancing in bikinis and beachside fun. So when it comes time to plan a spring break trip of your own as an adult and you select a location — tropical or not — you expect it to have perfect weather with warm temperatures.
In most places around the globe, right now is the dead of winter, so doing some quick research on your chosen spring break location is a must. Because if you want to escape the relentless wind chill and forever falling snow, you probably don't want to go somewhere cold and snowy. But even when you choose a place with a warmer climate, weather can be unpredictable. Storms can happen anywhere at any time, and those bikinis you packed could quickly turn into wasted space in your luggage. So when your winter getaway turns into a chilly disappointment, how do you deal? Here are eight ways to make surprisingly chilly spring break destinations less terrible.
1. Drink up
Because nothing warms you up quite like the sweet burn of liquid courage, am I right?
2. Unplug for the week
So you won't have as many blended sugary drinks to 'Gram as you had originally planned. So what? Take this opportunity to not use your phone at all, and give your brain the tech break it so desperately needs.
3. Read all the books
Reading is always a sure-fire way to escape a bummer scenario, or just to pass the time. If you can't have your own beachy adventure, get lost in someone else's on the page.
4. Learn a new skill
Learn how to knit, how to tie survival and nautical knots, take a dance class in town, chop your own wood, etc. Do something you wouldn't normally do at home, and by the end of the week, you will feel more accomplished and confident.
5. Go outside
Sure, it may be cold, but bundle up and explore your surroundings. If you've traveled somewhere away from home and the sun simply decided not to cooperate, just remember that you probably won't return to this place for a long time, so take it all in while you can — chilly weather or not.
6. Flock to the pub
When it's cold or rainy out, people head indoors. If you had planned to bump up against some other sexy humans, this is where you'll find them in a chilly spot.
7. Treat yo self to a new coat
If you expected it to be warmer wherever you end up, you probably didn't even pack one. So this is as much about justifying a shopping trip as it is about survival.
8. Just do you
Whatever is going to make you happy and relaxed, do that. If you don't want to put on pants, then have a week-long pants-free party in your hotel room. If you want to eat all the pancakes, then eat all the pancakes. Spring break only comes once a year, and you deserve to spoil yourself this week.
Image: Fotolia; Giphy (8)