We Are All On #TEAMJEMMA At The Oscars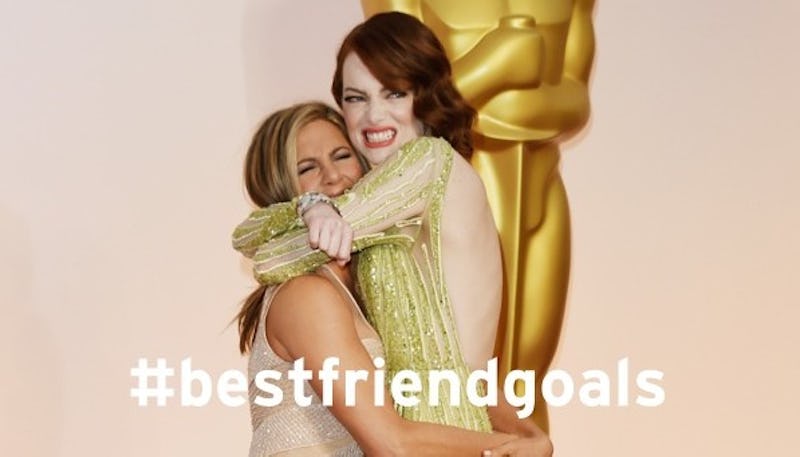 One of the best moments of tonight's ceremony happened before Neil Patrick Harris even stepped on stage. Emma Stone and Jennifer Aniston went in for a mega-hug before heading into the big event and the results were adorable. As much as the media tries to pit women against each other, time and time again our favorite feminists in the industry make all of that nonsense disappear. Who better to make you feel the love than Emma Stone and Jennifer Aniston? The more love and respect between women that we see, the better. Considering tonight is one of the most-watched television events year after year, their little moment could actually make a big difference. Other than making us all laugh and set some major best friend goals, these two are making the admiration and support women have for one another visible. HOORAY! WE'RE ALL WINNERS!
Now, of course when Jennifer Aniston and Emma Stone embrace in a squishy, hilarious way on Hollywood's biggest night, the moment has to be made into a meme. It's just the world that we live in... why fight it? Along with their meme-able hug, they also NEED a celeb couple name. So ladies and gents, I give you JEMMA. Enjoy!
Image: Getty Images