'Vogue' Turkey Has Five Different Covers For March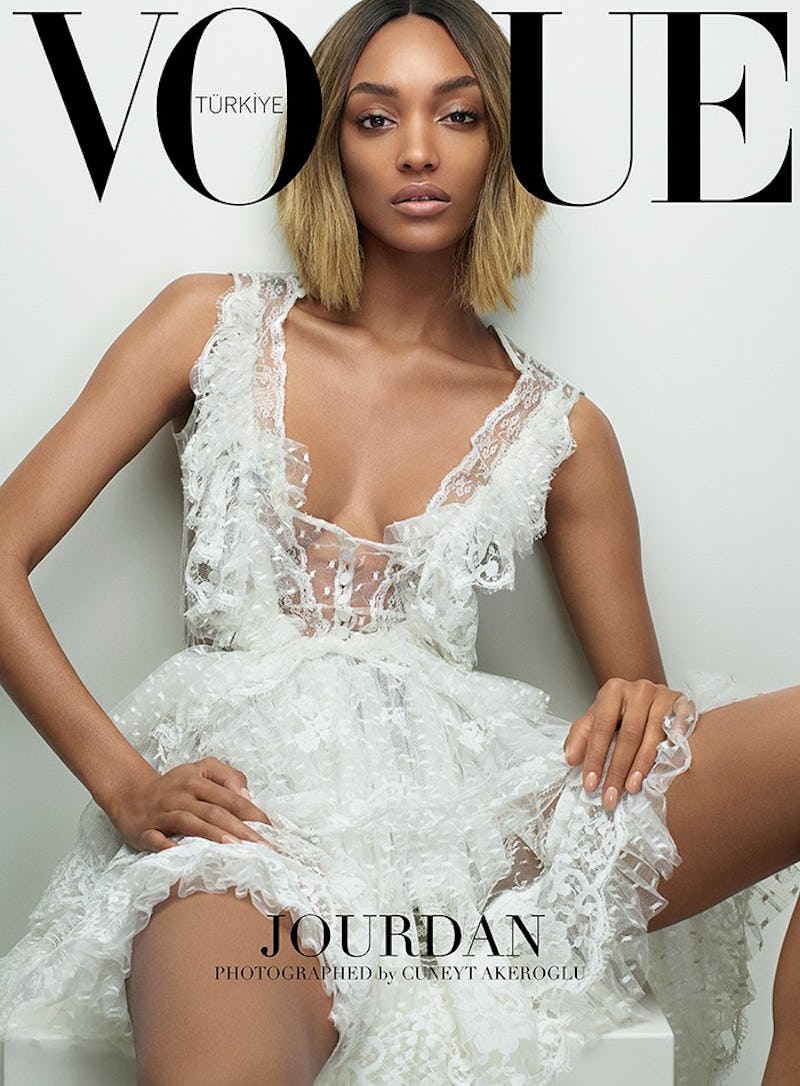 If there's one thing the fashion world isn't too familiar with, it's scaling back on things. Why have a $1,000 bag when you can have a $10,000 version? Why have 25 pairs of shoes when you can have 750 pairs? And, in the case of Vogue Turkey for their March issue, why have one cover and one cover model when you can have five different covers with five different top models? Yes, Vogu e Turkey debuted five different, coordinating covers for March, featuring models like Alessandra Ambrosio, Behati Prinsloo, and Fei Fei Sun. All of the covers feature the models sporting gorgeous, airy white dresses and every single cover (both separately and as part of the group) is so fairy tale level beautiful, it's almost breathtaking.
Needless to say, the five covers are pretty much the epitome of a dreamy spring aesthetic and probably what a lot of us need after suffering a ridiculously freezing winter. It's hard to choose a favorite cover (although, personally, Jordan Dunn and her white, lace dress is what my fashion dreams are made of), but that's kind of what makes the idea for the issue so amazing. All of the covers coordinate with each other, and are so beautiful that I can easily imagine each one framed and put in a wall gallery. It's dreamy, artistic, and painfully chic in all the right ways. What's not to love, really?
See what I mean? If people weren't already paying attention Vogue Turkey, then it's safe to say they are now. It's hard not to miss Jessica Stam, Jordan Dunn, and company in any case, but when they're all apart of one (OK, five) amazing Vogue cover(s), it really makes you stop and take notice.
And yes, I also now want it to be 70 degrees outside so I can go buy two dozen airy, white dresses for the new season. You're not alone there.