Paul & Meghan Didn't Let The Coaches Down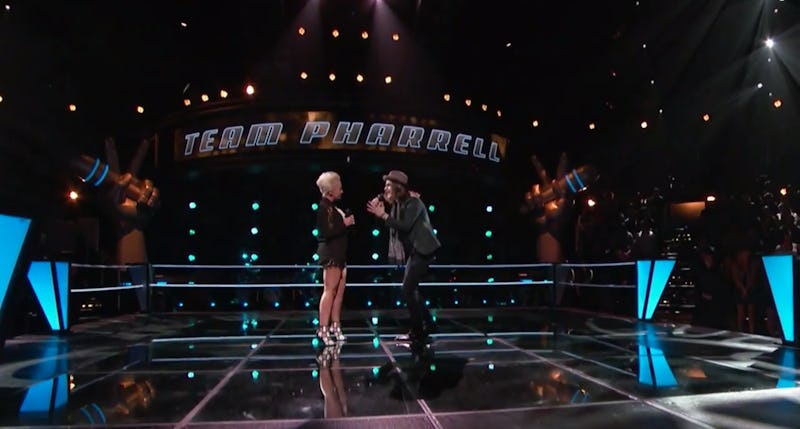 The final battle round of the night didn't let us down — but Pharrell did (and no, not because of the "Blurred Lines" scandal). Paul Pfau and Meghan Linsey performed an emotional duet to The Beatles' iconic song "Don't Let Me Down" and left Pharrell with a tough decision. The coach ultimately named Pfau as the winner of the battle, even though Linsey was clearly beat him. She wowed the coaches — and me — with her strong, gritty vocals. She might not have won the support of Pharrell, but the other coaches were happy to offer theirs'. Christina, Adam, and Blake all pushed their buttons for the steal, making Linsey the most desired contestant of the night.
Linsey belted her face off in the Battle Round and completely out-sung Pfau. Though both artists' voices were suited for the song, they were suited for it in different ways. Linsey brought powerful, raw emotion to the performance, while Pfau took a softer, more Indie approach. It was Linsey's version that came out on top, but Coach Pharrell clearly disagreed. He gave up a huge voice, but thankfully Blake Shelton was there to pick up his pieces.
Linsey has what it takes to go far in this competition. She has quite the resume — she was part of a duo with an ex-boyfriend and once opened for her now coach — and has the pipes to back it up. Her and Shelton will make an amazing team. Whether she decides to go the country route or not, Shelton will help her find what works best for her voice and really work with her to nurture that and make it great. It helps that the two already know each other because Linsey won't have to overcome the awkward "OMG I'M WORKING WITH A CELEBRITY" phase that so many other contestants go through. The two will be interesting to watch, and I'm excited to see how far Linsey will go in this game.
Image: YouTube/The Voice