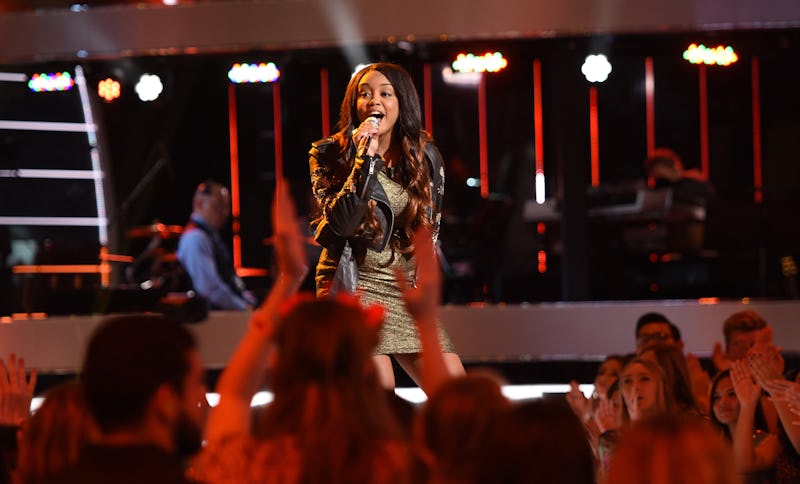 The judges get one save of the season — and they didn't use it on Sarina-Joi Crowe. The 19-year-old had one chance to sing for her life on the show after being sent home by voters, and it just didn't do it for the judges. This is a truly devastating loss for Crowe, who has auditioned for the show four times . While it's sad, JLo said it best that now that we're in the Top 12 "someone has to go home." Time definitely worked against Crowe in this sing-off — this was only the first week the judges could use their save & they're right to save it for later in the game — but she still has plenty of time to achieve her dream of becoming an artist.
The whole concept of the judges' save seems a little unfair. Contestants have just had their hearts broken by learning they could go home when they are forced to give the most important performance of their life. Crowe's song choice could not have been more appropriate for her save attempt — though I'm sure she wasn't expecting to be in the spot she was in. She broke my heart every time she sang "be still my heart 'cause it's freaking out," because you know her heart was seriously freaking out on that stage. The heightened stress of the save makes it impossible to give a good performance, and Crowe was certainly a victim of her stress.
Crowe has a lot to be proud of on this season of Idol. She garnered up the courage to audition for the fourth time, earned high compliments from the judges week after week, and made it farther than she ever has on the show. I was continuously entertained by the Tennessee native, who brought her own unique style and powerhouse voice to every song she performed. At age 19, Crowe still has plenty of time to perfect her craft. And while she probably won't return to Idol, there are many other routes she can take to pursue her career.
Image: Michael Becker/FOX