Compton Streets Turned Into A Prohibition Cellar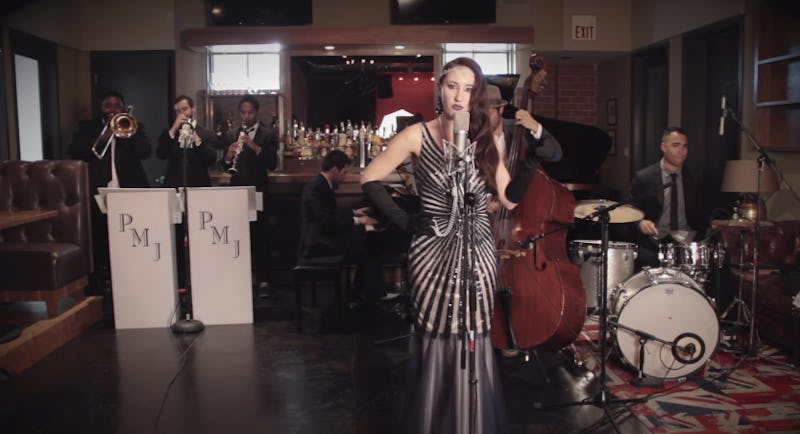 Prohibition-era mafia movies certainly glorify the fabulous aspects of the specific time and place: The engaging drama, scandal, on-point fashion (I'm lookin' at you, mobster wives; y'all are fly), and loungey jazz. It seems like it was certainly quite an exciting and stylish time to be movin' and shakin', despite the inherent and numerous dangers that came along with running in the early-20th century gangster scene. Now, because the internet and its denizens are pretty much straight genius, drew parallel between this time of vice and organized crime I could have never predicted: YouTube audio shape-shifters Postmodern Jukebox mashed up cigar smoky '20s lounge singing and blunt smoky mid-'90s West Coast rap, with their amazing cover of Coolio's "Gangsta's Paradise". I was so ready to hate this, and there's really nothing to hate. Sorry, we're all just going to have to admit this is kinda badass.
PMJ enlisted lead vocal help from the golden-throated, sultry Robyn Adele Anderson to breathe further authenticity into the reworking. She subs Coolio's quick references to the Compton crime scene to ones detailing mobster legend Al Capone and unshakeable allegiance to him. Anderson's pipes paired with the jazzy, swaggering piano make "I can't live a normal life/ I was lived by the streets," sound like, "Duh, obviously this is about 1920s gangster-run Chicago." You might even forget the original was rapped by a 23-year-old dude. If nothing else, it should help you forget the very strange Weird Al rendition (which might not be a bad thing):
OK, and I know I said we should forget the time Weird Al injected Amish culture into the street anthem, but like...
Anyone else up for a Breaking Amish marathon this rainy Friday?
Image: YouTube