15 Painful Photos Of Boston This Winter That Can Only Begin To Describe How Terrible It's Been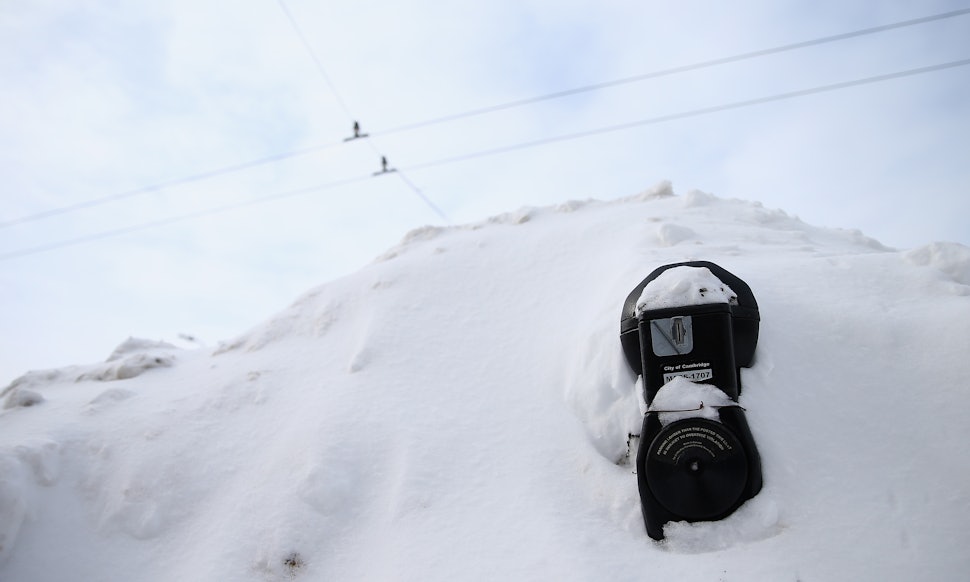 Maddie Meyer/Getty Images News/Getty Images
It's been six weeks since Punxsutawney Phil saw his shadow, and snow keeps coming for Boston. After a light wintry storm on Sunday, the city of Boston officially broke its snowfall record by exactly one inch. According to the National Weather Service in Taunton, Massachusetts, Boston's Logan International Airport, where the city's snowfall is formally tracked, hit a staggering 108.6 inches of snow this winter. The city's previous snowfall record was 107.6 inches, which accumulated during the 1995-96 winter season.
Since Jan. 23, when Winter Storm Juno passed over New York City and proceeded to pummel Boston, the Massachusetts capital has seen over 101 inches of snow. That's nearly 9 feet of snow, which quickly turned the winter wonderland of brick facades and gas-lit street lamps into a frozen Siberian wasteland.
Still, Boston doesn't even get to claim that it was the snowiest place in America this winter — that title goes to Copenhagen, New York, according to the Los Angeles Times. It looks like hearty New Englanders may just have to settle for the title of Super Bowl XLIX champs instead.
"Superbowls, World Series', Stanley Cups, and snowfall records," Boston Mayor Marty Walsh tweeted on Sunday. "We are truly a title city. There will be no parade."
Here's a look back on Boston's record-breaking winter. There's sunnier times ahead (we hope).
Boston's 2015 snowfall left residential neighborhoods covered in piles of snow
The overall accumulated snowfall wasn't the only winter record Boston set in 2015. In February, the Massachusetts capital received 64.9 inches of snow — more than 5 feet in just 28 days. It's currently the snowiest month on record for the city.
Most Boston residents made the most of the unending snowfall
Some Bostonians had a little too much fun with the 5 to 6 feet of snow piling up outside their windows. In January, Mayor Walsh had to publicly advise his residents to not jump out of windows or off their second-story decks into the snow piles. "It's a foolish thing to do," Walsh said at the time.
Trucks desperately tried to remove snow from the beleaguered city
Snow removal this winter came with a hefty price tag: $50 million. "We budgeted about $18 million. We're probably at about $45 million that we've paid on snow removal," Walsh told WBZ NewsRadio last week, adding that the grand sum for this winter will most likely be at least $50 million.
Parking meters in Boston have been out of order
Parking has never been easier in this city. Well, except for all the 10-foot snow piles on every street.
Leaving Boston was not an option
Logan Airport was forced to cancel thousands of incoming and outgoing flights over the last two months. There was no way out (or in).
Biking wasn't really an option, either
This was a normal sight in Boston over the last two months.
And about your car...
You could be like my neighbor, who left his street-parked car untouched for the last four blizzards.
MBTA shut down multiple times
After more blizzards hit in early February, the city's MBTA had a meltdown. All subway and light rail trains were closed throughout Boston for days on end (or longer if you're on the Braintree line). People were angry. Tensions ran high. The MBTA general manger quit after chewing out Massachusetts Gov. Charlie Baker in a very public, very fiery press conference.
No one was riding the Red Line
Seriously, the Red Line was a goner after the first 2.5 feet of snow fell.
Boston commuters waited for hours once the trains reopened
The Alps of MIT
A five-story snow mountain formed behind a block of buildings on the MIT campus. City officials were using the lot to dump excess snow, but that was quickly abandoned after college students scaled the snow mound and dubbed it the MIT Alps — or the "MIT Snow Mountain" or "Mt. Cambridge."
Image: Facebook/MIT Spectrum
Sightings of the elusive Boston Yeti became less rare this winter
He was caught trying to catch a cab in Somerville (should have called a Lyft instead).
Image: Twitter/Bostonyeti2015
Winter 2015 also brought out some new supernatural creatures
His name is Snow Ghost, and he haunts Brighton. He will also shovel your sidewalk if you're not spooked.
Image: Twitter/Snowst
After 108 inches of snow, there's a new mayor in town
During Sunday's St. Patrick's Day parade in South Boston, Mayor Walsh had a surprise: The Boston Yeti has been sighted so much this winter, so he will be taking over as Interim Mayor. At least he'll find like home among the 9 feet of snow.
Image: Twitter/Bostonyeti2015
Riding into spring
Until next winter, Boston.