Dubai: Fashion's Next Great Powerhouse?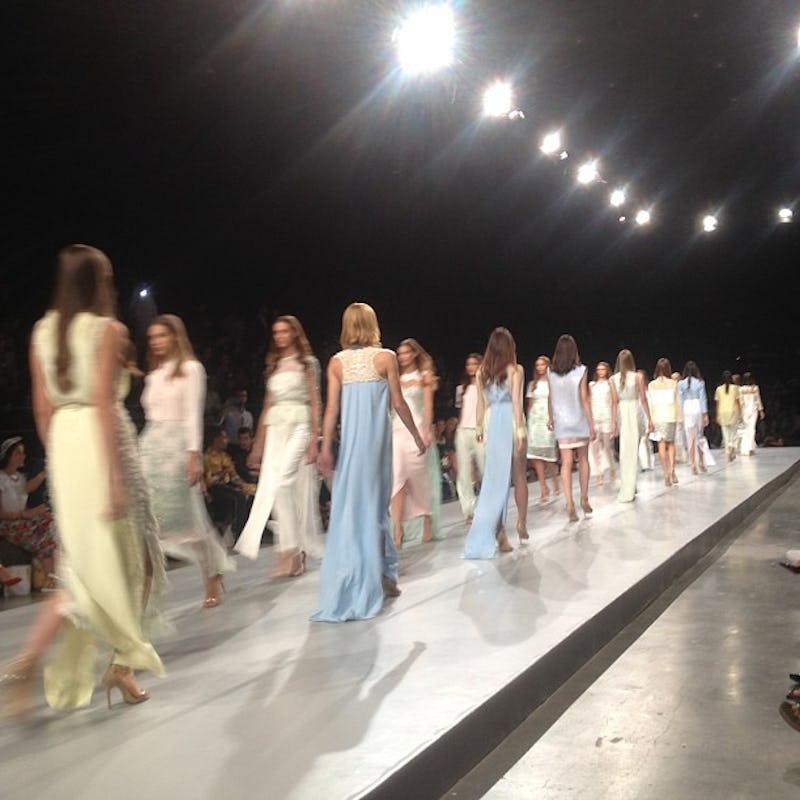 Fashion week: it's not just for Western cities anymore. Wednesday marked the beginning of Dubai's Fashion Forward, a four-day-long whirlwind of runway shows, fashion talks, and exclusive parties designed to position the Middle East as a force to be reckoned with in the world of sophisticated clothing design.
The ultimate goal of the event? To "drive forward the entire fashion industry in the region." Designers are hoping that fashion, which has long been exported from the Middle East, will also become a a vibrant industry at home; Bong Guerrero, Fashion Forward founder's, even declared that fashion is the "new petrol of the region."
Designers like Hema Kaul, House of Fatam, RK Designs, Dina JSR, and The Emperor 1688 will be showing off new collections during Fashion Forward. A quick look through these designers' past collections shows a bright and cosmopolitan sensibility that's not bound to the Middle East, but isn't interested in completely divorcing it, either. The three sisters of House of Fatam showcase clothing that's flowy, feminine, and a little gypsified, while on the other end of the spectrum, The Emperor 1688's luxury menswear feels strongly inspired by a Savile Row aesthetic.
Will fashion ever truly be the region's new petrol? It's an appealing sentiment, given the troubled baggage of the petrol industry's past, but with Fashion Forward only in its second year (and the featured designers still fairly unheard of), it may be too early to tell.
Still, there's definitely something happening here: just last week, Dubai welcomed sartorial superstars Naomi Campbell, Donatella Versace, and the ever-weird/ever-cool Solange Knowles for something called the "Vogue Fashion Dubai Experience," a collaboration with Vogue Italia that took place at the Dubai Mall. It was an evening with a self-described "stratospheric glam factor" designed both to promote education in developing countries — and to promote Dubai as a fashion hub worthy of recognition from the rest of the world.
Image: madiyahalsharqi/Instagram; houseoffatam/Instagram