Obama Impersonated Frank Underwood For April Fools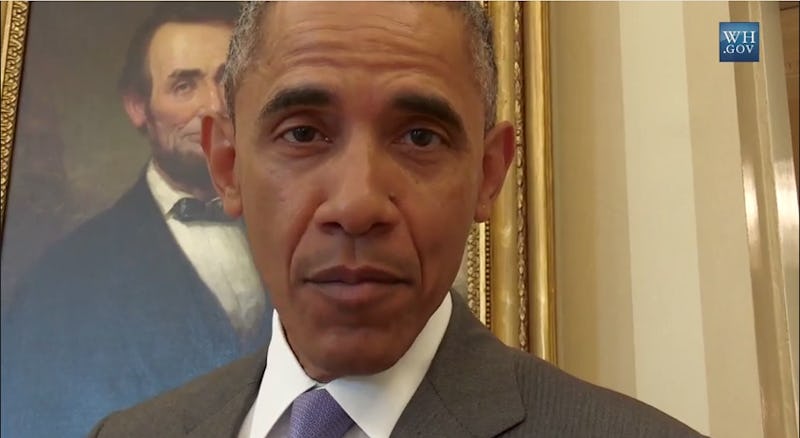 April Fools Day has come and gone — without incident for me, thankfully — but for those who are fans of the, uh, ocassion, had an ally in the White House, whose idea of an April Fools joke was President Obama impersonating Frank Underwood in a rather questionable Southern accent. In this week's West Wing Week episode — the White House's weekly web-series of events concerning the president, currently celebrating its fifth anniversary (who even knew this existed?) — Obama at one point speaks to the camera a la fictional POTUS Frank Underwood in the Netflix House of Cards TV show, affecting a pretty atrocious Southern drawl to wish viewers a "Happy April Fools' Day."
Hello everybody. This is not Frank Underwood. This is Barack Obama. Happy April Fools' Day. Frank learned it from me.
What does that mean? Was it an April Fools' Day joke? While some have praised Obama's "self-deprecating, ironic" sense of humor in the past, not everybody appreciated this one. The short bit is (perhaps cleverly) hidden in the video, only appearing 3:59 minutes in.
Obama referenced Underwood in the video was no surprise, though; his fondness for the cutthroat character has been documented in the past. In 2013 when Netflix released the TV show, Obama expressed admiration for Underwood's ruthless efficiency, telling a group of tech CEOs at a meeting:
I wish things were that ruthlessly efficient. This guy's getting a lot of stuff done.
But if you think that's bad, apparently April Fools' Day is the one day people in politics think it's fine to just throw around snippy remarks in the form of an atrocious "joke." Newt Gingrich — ever the opportunist — seized the occasion to criticize Obama's foreign policy.
Then, in case you didn't get it the first time around or something, he tweeted, #icymi:
Potential GOP presidential hopeful Scott Walker also pranked us all with a "big announcement" — not about running for president, but to tell us which sports team he supported.
Maryland Gov. Larry Hogan did the opposite, announcing that he was running for president at a meeting and then reminding everyone that it was April Fools' Day.
There were a couple of jokes ridiculing climate change deniers, too. Progressive organization Americans United For Change issued a pun-riddled statement apologizing to Republicans for claiming climate change was real.
As did billionaire environmentalist and Democratic donor Tom Steyer's organization, NextGen Climate.
I, for one, am glad that it's only one day a year that people feel as though they can make corny jokes and get away with it.
Image: The White House/Youtube