Cookie Lyon Drops By 'Sesame Street' On 'SNL'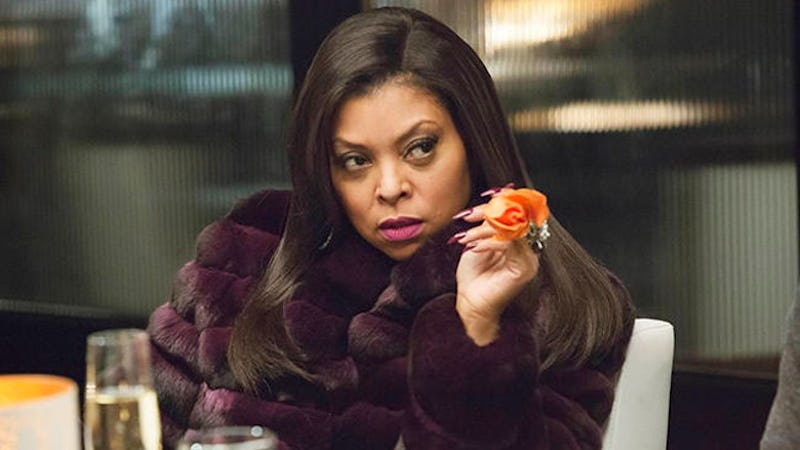 There was a tall order to fill on Saturday Night Live with Taraji P. Henson as host, and boy, they did not disappoint. I'm referring to, of course, an Empire themed sketch on SNL with Henson as Cookie, and not only did Henson play her iconic role on SNL — how could she not? — but she brought the wonderful queen that is Cookie to Sesame Street. Can you think of a better place for Cookie Lyon to be other than Sesame Street?
Bringing Cookie to SNL had to happen, but because SNL just did an Empire sketch when Chris Hemsworth was host, I didn't want to see any old Empire parody. That would have been too easy, and if I'm staying up until midnight on Saturday night, I don't want to see easy. So instead of putting Cookie in her Empire element, SNL put her in the Sesame Street element, which is when I learned, one does not simply take Cookie Lyon out of her element. That woman brings her element with her everywhere she goes.
The sketch itself was actually hilarious — even for those who don't find Sesame Street funny anymore (sorry Mom, but it's just part of me becoming an a-dult). I think the juxtaposition of Cookie's shade and Sesame Street's innocence worked and clashed in the best way possible. Cookie didn't hold back just because she was on a childrens' show. She made fun of Burt and Ernie, told Snuffleupagus that "he is not about that life!", and might or might not have killed and skinned Elmo (like I said, Cookie is not holding back).
Of course, because this is Cookie, there needed to be a Cookie Lyon/Cookie Monster moment. While I don't think Empire's Cookie Lyon would grab a cookie and say "NOM NOM NOM," Sesame Street's Cookie Lyon definitely did. And I don't think Cookie Monster was too big on this random woman taking over his "thing." Good luck winning that fight, Cookie Monster.
Images: FOX