Two Expectant Moms Share Adorable Maternity Photo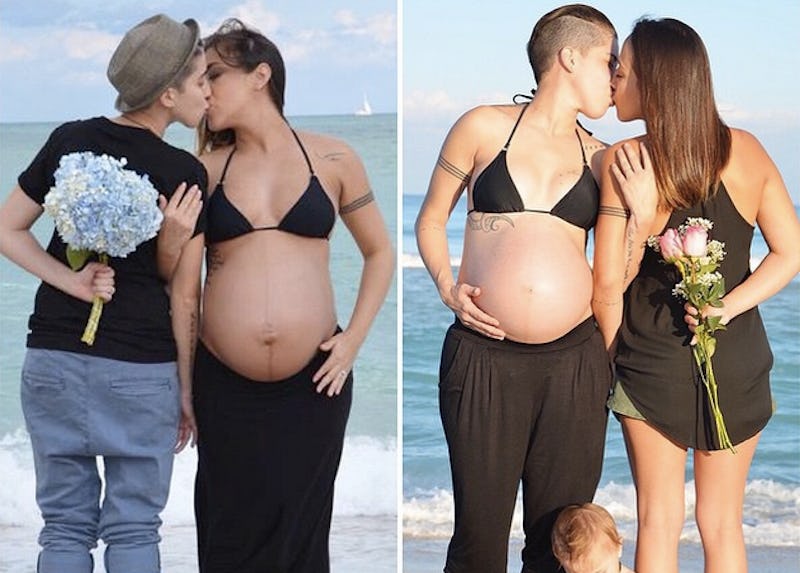 There are a lot of amazing maternity photos out there, but this one posted by North Carolina couple Melanie and Vanessa Iris Roy comes with a twist: Their photo shows mirror images of them both pregnant, one year apart. One side of the image is a photo of Vanessa Iris taken in January 2014, when she was pregnant with the couple's son, Jax, and the other is of Melanie, taken in January 2015, when she was pregnant with their young daughter, Ero. The photo is accompanied by a simple caption: "Trading places".
The couple didn't expect the image to go viral after they posted it to Instagram two months ago, but that's precisely what happened. The photo began popping up on LGBT websites, and garnered almost 160 thousand likes when a Brazilian advocacy group posted it on Facebook. Melanie told The Huffington Post, "It's crazy to see that people were referring to my family as an inspiration. We are still in complete shock." The photo reflects the Melanie and Vanessa Iris's desire to each carry a child. Melanie tells The Huffington Post, "Vanessa and I have always said we would both like to carry." She says she hopes their photo inspires other women, remarking,
The woman's body is incredible. The way it creates and grows another human being is amazing. We hope that our picture is that sign that some women may need to encourage them to carry a child.
A quick look at the couple's Instagram accounts reveals that this wasn't the only time they've posted ridiculously cute photos. Check out a few more images of them and their beyond-adorable children:
And this video, which is so sweet I CAN'T HANDLE IT.
Image: therealmelroy/Instagram