Reese & Sofia Tell Me About Kissing Each Other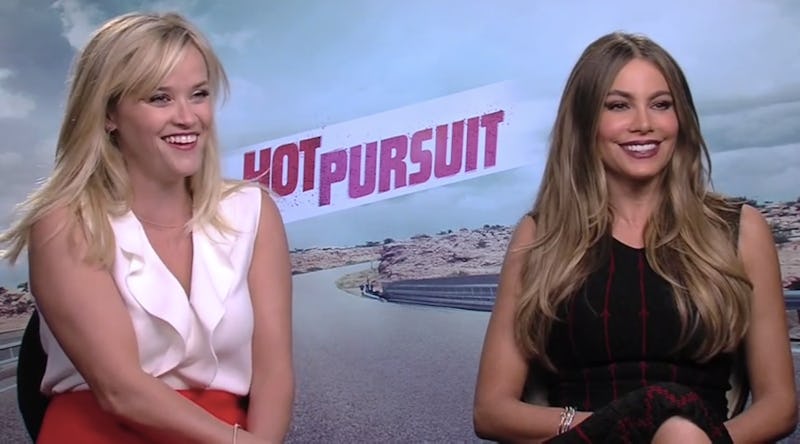 Their chemistry is as palpable in real life as it is in Hot Pursuit , the 2015 female buddy comedy directed by Anne Fletcher. Before our interview officially begins, Reese Witherspoon and Sofia Vergara are laughing with one another, complimenting me on my tan — which prompts Witherspoon to say she "needs to get to the pool" — and generally having a lot of fun. The two actresses have proven their acting prowess, with Witherspoon garnering an Oscar-nod for 2014's Wild, and Vergara being nominated for multiple Emmys for her performance on ABC's Modern Family. But when paired together, they can't stop giggling.
The comedy is set in Texas, where Cooper (Witherspoon) is a clumsy cop charged with protecting the widow (Vergara) of a drug lord type. But of course, nothing goes as planned, and soon, law enforcement in the south ends up chasing Cooper instead of the bad guys. The film includes a lot of slapstick humor, a great deal of physical comedy (impressively enacted by the women), and one flawless Justin Bieber (or as Vergara's character says, "José Bieber") impression.
Watch the interview below, which begins with Witherspoon explaining why Vergara calls her a doll, and ends with a discussion of which lady is the better kisser, and how Witherspoon tackled those Spanish-speaking scenes.
See Hot Pursuit is in theaters May 8.