Critics Choice Awards Show The Emmys How It's Done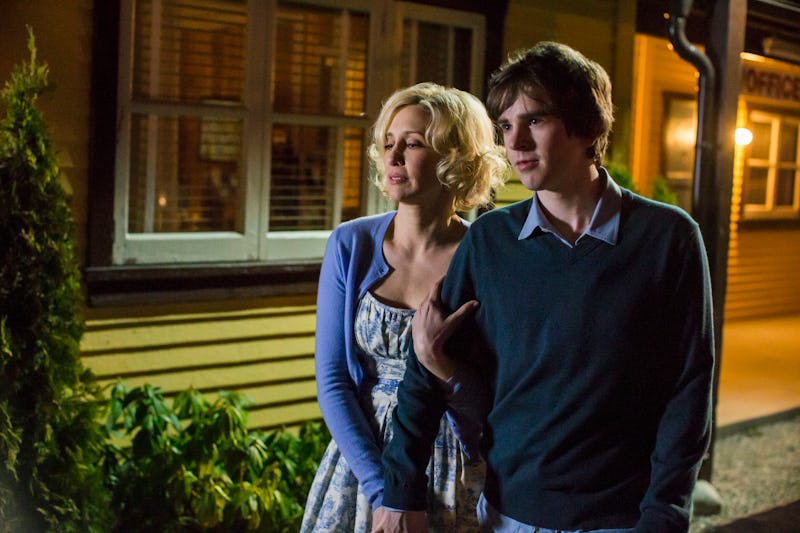 Because America enjoys nothing so much as the sport of declaring "the best" of a subjective art form, we have more awards shows than one could possibly count. It feels like we just finished the Oscars, the Tonys were announced last week, and now — somehow — inconceivably — it's time for the Critics' Choice Television Awards. Thank goodness, then, that this voting body chose to shake things up by actually nominating the best shows on television. It's a revolutionary idea that Emmy voters should take note of.
The most-nominated show this year was the final season of FX's under-awarded drama Justified, with five nods. Coming in close behind with four nods each were FX's The Americans, CBS's The Good Wife, and Amazon's Transparent. Sure, you'll find several old standbys in this list (Game Of Thrones, Veep, American Horror Story) — but they stand right alongside some oft-ignored fan favorites (Bates Motel, Broad City) and acclaimed freshman series (Better Call Saul, Empire).
The Critics' Choice TV Awards are a relatively young body (this year will mark only their 5th Annual ceremony), which perhaps speaks to why the voters are so willing to think outside of the box. For every painful snub — zilch for Golden Globe winner The Affair and nada for Parks & Rec's final season — there are more than enough happy surprises to make up for them. Here are just a handful of the nominations television fans should be most excited about:
The Entire Best Actress In A Drama Series Category
While Julianna Margulies (The Good Wife) won the Emmy last year and Vera Farmiga (Bates Motel) was nominated two years ago, the rest of the field have yet to be recognized by the Emmy voters for their work in these roles, whether because they're too new or because they've previously been snubbed: Viola Davis in How To Get Away With Murder, Eva Green for Penny Dreadful, Taraji P. Henson for Empire, and Keri Russell for The Americans. The only two absences that sting are House Of Cards' Robin Wright and Orphan Black's Tatiana Maslany. But in a category this stacked with talent, it's hard to complain.
Chris Messina For The Mindy Project
Although the show itself and Mindy Kaling both missed out on noms, it was thrilling to see Messina, who has never been nominated by the Emmys for anything, recognized for his consistently solid work here. If there's a more charming short Italian gynecologist with surprisingly killer dance moves out there, I certainly don't know him.
Carrie Coon For The Leftovers
Before she stole David Fincher's Gone Girl out from under much bigger names with her stellar supporting turn as Margo Dunne, Coon practically walked away with HBO's grim new drama as grieving widow Nora Durst. Hers was often the only sympathetic portrayal in a show almost entirely populated by frustrating characters, and she deserves every ounce of recognition she'll get.
Constance Wu For Fresh Off The Boat & Anthony Anderson for black-ish
In a television season acclaimed for its diversity, it's a relief to see that diversity reflected in these nominations (as opposed to the Oscars, who chose to completely whitewash their acting fields for the first time in 17 years). Wu's and Anderson's nominations, along with Viola Davis, Taraji P. Henson, and Golden Globe-winner Gina Rodriguez, represent all of the season's hottest new hits: Fresh Off The Boat, black-ish, How To Get Away With Murder, Empire, and Jane The Virgin. Add Jeffrey Tambor's performance as a transgender woman in Transparent, and you have the most diverse crop of nominees... perhaps ever.
Freddie Highmore For Bates Motel
As A&E's Psychotic drama goes on and Norman Bates grows increasingly unhinged, Highmore's performance has risen to the occasion, matching his outstanding scene partner Vera Farmiga beat-for-beat. While genre shows are often overlooked by larger voting bodies, it's refreshing to see a bit of small screen horror represented here, between Bates and the aforementioned Penny Dreadful. (If only Hannibal had also managed to make the cut... pun intended.)
Tituss Burgess For Unbreakable Kimmy Schmidt
Netflix's most hilarious creation, Titus Andromedon, gave Cookie Lyon herself a run for her money as 2015's most quotable new TV star. While I wish the show itself had been represented a bit more, I'll take solace in Burgess' nomination — along with a tall glass of Peeno Noir.
Mae Whitman For Parenthood
During its outstanding six-year run as one of NBC's most critically-acclaimed dramas, Jason Katims' Parenthood only ever amassed one Emmy nomination: an Outstanding Guest Actor nod for Jason Ritter. Whitman has made a name for herself with roles in the likes of Parenthood, Arrested Development, Scott Pilgrim Vs. The World, and The Perks Of Being A Wallflower, so it's nice to see both Whitman and her co-star Craig T. Nelson acknowledged here.
Finn Wittrock for American Horror Story: Freak Show
While Ryan Murphy's gonzo horror show may have started flagging in its latter two seasons, most viewers will agree that Wittrock was one of the few bright spots of Freak Show. As pampered, egomaniacal rich boy Dandy Mott, Wittrock stole the show from AHS mainstays (and fellow Critics' Choice nominees) Jessica Lange and Sarah Paulson. Now, if only Murphy would hurry up and announce Wittrock's involvement in Hotel...
The Good Wife For Best Drama Series
Downton Abbey's absence from the Drama race thankfully made room for CBS's legal drama, so memorably snubbed by the Emmy's last year in its fifth — and undoubtedly best — season. Sure, Season 6 may not quite have lived up to the buzzy highs of Season 5, but it's still far and away the best scripted drama on broadcast television, and more than earned its slot here. In a field more and more dominated by cable, subscription channels, and Netflix, it's refreshing to see The Good Wife — and Empire — hold down the fort for good old-fashioned network TV.
Full List
Best Drama Series
The Americans
Empire
Game Of Thrones
The Good Wife
Homeland
Justified
Orange Is The New Black
Best Actress In A Drama Series
Viola Davis, How To Get Away With Murder
Vera Farmiga, Bates Motel
Eva Green, Penny Dreadful
Taraji P. Henson, Empire
Julianna Margulies, The Good Wife
Keri Russell, The Americans
Best Actor In A Drama Series
Freddie Highmore, Bates Motel
Charlie Hunnam, Sons Of Anarchy
Bob Odenkirk, Better Call Saul
Timothy Olyphant, Justified
Matthew Rhys, The Americans
Aden Young, Rectify
Best Supporting Actress In A Drama Series
Christine Baranski, The Good Wife
Joelle Carter, Justified
Carrie Coon, The Leftovers
Lorraine Toussaint, Orange Is The New Black
Mae Whitman, Parenthood
Katheryn Winnick, Vikings
Best Supporting Actor In A Drama Series
Jonathan Banks, Better Call Saul
Christopher Eccleston, The Leftovers
Walton Goggins, Justified
Ben Mendelsohn, Bloodline
Craig T. Nelson, Parenthood
Mandy Patinkin, Homeland
Best Guest Performer In a Drama Series
Sam Elliott, Justified
Walton Goggins, Sons Of Anarchy
Linda Lavin, The Good Wife
Julianne Nicholson, Masters Of Sex
Lois Smith, The Americans
Cicely Tyson, How To Get Away With Murder
Best Comedy Series
Broad City
Jane The Virgin
Mom
Silicon Valley
Transparent
Veep
You're The Worst
Best Actress In A Comedy Series
Ilana Glazer, Broad City
Lisa Kudrow, The Comeback
Julia Louis-Dreyfus, Veep
Gina Rodriguez, Jane The Virgin
Amy Schumer, Inside Amy Schumer
Constance Wu, Fresh Off The Boat
Best Actor In A Comedy Series
Anthony Anderson, Blackish
Will Forte, The Last Man On Earth
Johnny Galecki, The Big Bang Theory
Chris Messina, The Mindy Project
Thomas Middleditch, Silicon Valley
Jeffrey Tambor, Transparent
Best Supporting Actress In A Comedy Series
Mayim Bialik, The Big Bang Theory
Carrie Brownstein, Portlandia
Allison Janney, Mom
Judith Light, Transparent
Melanie Lynskey, Togetherness
Eden Sher, The Middle
Best Supporting Actor In A Comedy Series
Tituss Burgess, Unbreakable Kimmy Schmidt
Jaime Camil, Jane The Virgin
Adam Driver, Girls
Tony Hale, Veep
T.J. Miller, Silicon Valley
Cameron Monaghan, Shameless
Best Guest Performer In A Comedy Series
Becky Ann Baker, Girls
Josh Charles, Inside Amy Schumer
Susie Essman, Broad City
Peter Gallagher, Togetherness
Laurie Metcalf, The Big Bang Theory
Bradley Whitford, Transparent
Best Movie Made For Television
Bessie
Killing Jesus
Nightingale
A Poet In New York
Stockholm, Pennsylvania
Best Limited Series
24: Live Another Day
American Crime
The Book Of Negroes
The Honorable Woman
Olive Kitteridge
Wolf Hall
Best Actress In A Movie Or Limited Series
Aunjanue Ellis, The Book Of Negroes
Maggie Gyllenhaal, The Honorable Woman
Felicity Huffman, American Crime
Jessica Lange, American Horror Story: Freak Show
Queen Latifah, Bessie
Frances McDormand, Olive Kitteridge
Best Actor In A Movie Or Limited Series
Michael Gambon, The Casual Vacancy
Richard Jenkins, Olive Kitteridge
James Nesbitt, The Missing
David Oyelowo, Nightingale
Mark Rylance, Wolf Hall
Kiefer Sutherland, 24: Live Another Day
Best Supporting Actress In A Movie Or Limited Series
Khandi Alexander, Bessie
Claire Foy, Wolf Hall
Janet McTeer, The Honorable Woman
Mo'Nique, Bessie
Cynthia Nixon, Stockholm, Pennsylvania
Sarah Paulson, American Horror Story: Freak Show
Best Supporting Actor In A Movie Or Limited Series
Jason Isaacs, Stockholm, Pennsylvania
Bill Murray, Olive Kitteridge
Elvis Nolasco, American Crime
Jonathan Pryce, Wolf Hall
Cory Michael Smith, Olive Kitteridge
Finn Wittrock, American Horror Story: Freak Show
Best Reality Series
Anthony Bourdain: Parts Unknown
Deadliest Catch
Married At First Sight
MythBusters
Shark Tank
Undercover Boss
Best Reality Competition Series
The Amazing Race
America's Got Talent
Dancing With The Stars
Face Off
MasterChef Junior
The Voice
Best Reality Series Host
Tom Bergeron, Dancing With The Stars
Anthony Bourdain, Anthony Bourdain: Parts Unknown
Cat Deeley, So You Think You Can Dance
Phil Keoghan, The Amazing Race
James Lipton, Inside The Actors Studio
Betty White, Betty White's Off Their Rockers
Best Animated Series
Archer
Bob's Burgers
Gravity Falls
The Simpsons
South Park
Star Wars: Rebels
Best Talk Show
The Daily Show With Jon Stewart
The Graham Norton Show
Jimmy Kimmel Live
Last Week Tonight With John Oliver
The Late Late Show With James Corden
The Tonight Show Starring Jimmy Fallon
Images: James Dittiger/A&E; thevolchitsa, grelca, hannahorvath, samwilsons, bercovicia, hennyproud, halpertjames, ahorrorstoryfreakshow, peace-dreams-love-always, itsaliciatime/tumblr